BSC Film and Digital Evaluation 2009

On 8 July I attended the BSC Film and Digital Image Evaluation 2009, premiered at the National Film Theatre in London. This event reported back on extensive camera/format tests conducted by the BSC at Pinewood Studios in February 2009, and was managed by GTC Council member Martin Hammond. It was the first in a series of similar such presentatiions to take place around the country:
Forthcoming events:
Bristol 4 August 2009
Glasgow September 2009
Pinewood October 2009
Manchester November 2009
Cardiff January 2010
Belfast February 2010
This evaluation of 18 camera/film combinations was presented as an unbiased assessment of current camera technology available for shooting moving pictures for film or television.
The key to valid tests is repeatability and it is intended that this will be a repeatable test method. A demanding hybrid interior/exterior set was specially built for the tests and will be stored at Pinewood. A series of studio day, night, close-ups, location exteriors and action shots formed a tough test for the cameras under review although perhaps not as challenging as the recent ASC camera tests. For more details of the technical specifications of the BSC tests see BSC President Sue Gibson's notes below.
A total of 18 camera/film combinations were compared and these were assessed in three groups: large, medium, small (35mm sized, 16mm sized, others). They were assessed for:
Resolution, sharpness, colour
Ease of use, efficiency, cost, workflow
Composition, focus, exposure
Post-production, technical grading, editing,
encoding for distribution

If you missed the NFT presentation and would like to attend the next event ( Tuesday 4th August 2009) which will be at the Watershed Media Centre in Bristol, you can register at: www.bscine.com/events. The event starts at 10.30am and will conclude at approximately 5.45pm.
A special discounted rate of £25 (inc. VAT) is available for delegates pre-registering on-line and complimentary places are being offered to members of the Evaluation Shoot Crew. Tickets purchased on the day will cost £30.

Introduction from the President of BSC Sue Gibson
As we all know, 'time stands still for no man' so the BSC have updated their evaluation of film and digital formats.
Since our earlier presentation in 2007 there have been advancements in the film and digital world; new cameras that are 'Beyond HD' now capture data rather than record on tape, finer grained film stocks and changing post production work-flows. We therefore felt it important to upgrade our earlier evaluation for the enlightenment of all.
There is still confusion in the industry, regarding the abilities of many of the available formats and a lot of hype from certain manufacturers. To resolve this we have been as objective as possible in the execution of this Evaluation, and have carried this objectivity right through post production to the final presentation.
We will endeavour to clarify the 'technical jargon' associated with digital film making and will expound on the aesthetic and budgetary implications of each format so that producers, directors and all Departments involved in the creative process of film making can make decisions based on fact rather than hype about how best to shoot their production.
The 18 different film and digital formats in this Evaluation were all donated from the suppliers for which we are greatly indebted. The support of our Patrons, the facility houses, the crew and the rest of the industry has been immense and we thank them all profusely.
Technical Specification
The BSC Film and Digital Image Evaluation 2009 encompassing 18 different film and digital cameras and different film stocks was filmed at Pinewood in February 2009.
This material provides information for the industry which will enable film makers to assess the options open to them in today's ever changing world.
The choice of film stocks and the menu settings was left in the hands of the manufacturers and suppliers to ensure a completely unbiased test. Those digital cameras able to record to both Tape and Data were invited to do so. The final material was assessed after grading and the best quality format went forward to editing.
All the material was graded to provide a level playing field for its assessment; using the grey scale and Macbeth Colour Chart. This was lit to exactly 3200k or 5600k depending on the scene phorographed and exposed using the ASA rating provided by the manufacturer/supplier, which was confirmed using a waveform monitor for the digital formats. There was no other grading of individual shots.
The Cameras
ARRI 435 Full frame 35mm. 4perf 1:1.85 with 4 different
film stocks from Kodak and Fuji
Red One
Sony F35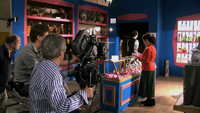 Panavision Genesis
ARRI D-21
ARRI 416 Super 16mm with 4 different film stocks
from Kodak and Fuji
Thomson Viper
Silicon Imaging 2k
Sony 900R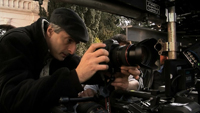 Panasonic 3700
Sony EX-3
Panasonic HVX 201
The Shots
WIDE SHOT DAY INT/EXT and WIDE SHOT NIGHT INT /EXT
Motion control. Lens 25mm on 35mm Camera (matched as closely as possible by all other camera formats).
THE CLOSE UP
Static. Lens 75mm on 35mm Camera (matched as closely as possible by all other formats)
EXTERIOR
With all cameras and film stocks at same time to ensure same weather conditions, both in spherical and anamorphic formats.
Post Production
Ascent Media performed the following tasks:
RUSHES STAGE :-Telecine and logging of all 35mm negatives to HDCam SR tor viewing rushes, with in/out timecodes.
Conversion of all data & HD outputs from 10 different digital cameras, to HD Cam SR for viewing and selecting rushes.
Editing together a compilation of selected takes on HD Cam SR.
From selected shots create an EDL for scanning 35mm & 16mm negative selected takes, and for extracting to 2k files the selected digital camera shots.
MASTERING STAGE :- Scanned selected 35mm negative takes on Arriscan at 6k, creating 4k DPX 10 bit
log files of these shots. Files then supplied to the editor.
Scanned selected 16mm negative takes on Arriscan at 3k, creating 2k DPX 10 bit log files of theses shots.
Files supplied to editorial.
Supplied 2k DPX 10 bit log files and RAW or native files from all data cameras to Editorial for mastering.
In some cases these files were used in the final master, in other cases a further extraction ro 2K. DPX 10 bit
log files was completed on the Quantel eQ direct from the RAW or native files.
AUDIO :- Sound mixing suite with voice over booth for sound commentary was used at Ascent Media.
WORKFLOW :- In order to produce an analysis of the time and costs involved, all workflow information on all formats along with technical specification of file sizes and Codecs; was recorded.
GRADING :- 10 bit DPX files ( in 2k) were ingested onto the Filmaster machine made by Digital vision at
The Hat Factory. Pictures were then graded on a cinema screen in P3 Gamma 2.6 Colour space.
All the material was put through a "Technical" grade using the grey Scales and Macbeth Charts.
Cross referencing to the pictures and other formats was also part or the process.
Measurements were taken on a scope from REC 709 colour space proxies.
This was a very time consuming process due to the large number of different formats involved, and unlike a normal grade as the aim was to reveal inherent differences rather than eliminate them.
The graded material was then exported as 2k files for editing.
EDITING:- This was done by Torquil Dearden of Cat Skinners at Concrete.
All film scans and data files were imported from Ascent Media onto hard drives from grading.
Takes were then trimmed and everything mapped to the same 2048 x 1556 pixel sized frame.
All 4K scans were down-resed to Super 2K lor editing.
The edit was done on the Quantel eQ. using version 4 software.
The completed material was then sent to Technicolor using 10bit DPX Linear files graded for P3 projection
to ensure the widest possible range.
FINAL PRESENTATION :- The RGB files of the completed material ingested by Technicolor.
They colour space converted them to the XYZ universal colour-space.
The files were then losslessly compressed into JPEG 2000 file format.
From this Technicolor produced a DCP (Digital Cinema Package) to load onto the Digital Cinema Server at each of the venues.