Camera Corps Q-Ball robotic cameras live in Trafalgar Square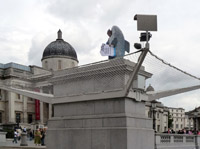 If you are passing through Trafalgar Square in the next 3 months and pause to look at the well publicised Anthony Gormley 'One and Other' people's plinth on which vounteers from the public perform – or maybe just stand – for an hour at a time, then take a moment to notice the robotic cameras mounted around the plinth.
GTC sponsors Camera Corps have loaned the robotic Q-Ball cameras to 021 Television who are providing footage of this innovative project for regular reports fronted by Clive Anderson on Sky Arts 1 HD at 7 pm each Friday.
There will be a full report on the Q-Ball cameras and how they fare on this lengthy project in the October issue of GTC In Focus.