Camerimage: Image Forum launches

As previously reported on this site, the new Image Forum was launched on Wednesday 3 December at the Plus Camerimage cinematography festival in Poland. Three GTC Council members were in attendance: Chairman Brian Rose, Vice Chairman John Tarby and Image Forum committee member Martin Hammond.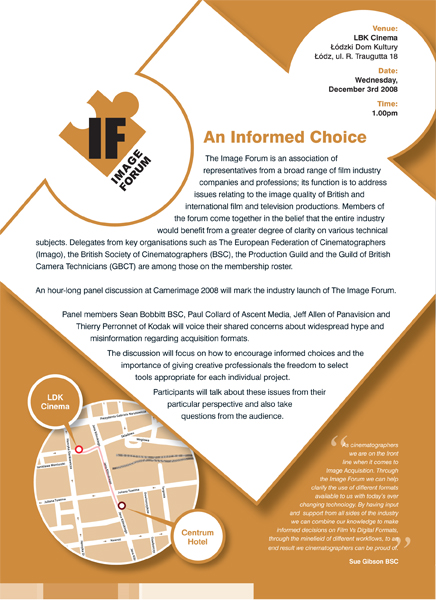 The launch attracted much attention with the cinema packed with delegates interested to discover what it is all about. After presentations from Judith Petty (ARRI), Sean Bobbitt and Joe Dunton (Governor and Vice President of the BSC), Jeff Allen (Panavison Europe) and Thierry Perronnet (Eastman Kodak), Paul Collard (Ascent Media) and Henning Raedlein, there followed a lively Q&A session.
The Forum was able to confirm that comparative independent camera tests will go ahead next year. The tests will take place at Pinewood Studios from
2–6 February 2009 and the results presented at six regional roadshows around the country at which Image Forum will also be present to facilitate discussion on a range of other topics. GTC members who attended our 2007 Awards seminar day at Beaconsfield will remember the interesting presentation of results from the previous series of camera tests conducted by the BSC.
Brian Rose comments on the launch:
Plus Camerimage is the largest gathering of cinematographers in the world so it was appropriate that the Image Forum chose the Festival held in Lodz, Poland for its official launch.
Although the founder members mostly come from the film camera manufacturers, laboratories and film stock makers it should not be thought that they have an axe to grind. Nor, as some believe, was the Forum set up to confront the BBC over its decision not to accept Super16 for HD acquisition. Nor indeed, is it 'anti digital'.
The truth is that the Forum is open to anyone who is concerned about moving images. They extended an open invitation to all interested bodies and individuals. True enough, at an event like Camerimage, that tended to mean cinematographers.
But that was where things got interesting. Not only at the Image Forum launch itself, but throughout the many workshops and presentations, the main emphasis seemed to be on digital.
How can we acquire the very best images? How can cinematographers take advantage of a digital workflow? How can cinematographers take control of the images they create? And the final questions to be answered by Image Forum: What if? It's these imponderable 'if's' that the Forum hopes to answer.
The first major undertaking will be a series of head-to-head tests, covering all the major film, HD and digital formats. Shot under controlled conditions, with no prejudice for any particular camera or format, this should go a long way towards providing the answers.
And of course, the GTC will be there as well. If one thing was clear from Camerimage itself, it was that no one can treat in isolation cinema, television, DVD or any other distribution method. We all make moving pictures.
GTC Vice Chairman John Tarby states:
"Camerimage 2008 in Lodz Poland saw the promising and well attended launch of a new body Image Forum a group open to all and concerned entirely with maintaining quality standards of visual imagery in all forms of motion picture: film, tv, dvd, etc.
I was pleased to learn this was definitely not just a lobbying group reacting to the Super16 for HDTV controversy, more a sort of continuous monitoring facility that hopefully would become a respected benchmark amongst cameramen worldwide. I wish it every success."
President of the BSC, Sue Gibson, was elsewhere judging but sent this statement:
As a representative of the BSC I am very pleased to be associated with the Image Forum and like to think that our Society's efforts to demystify the process of film and digital photography may have been the catalyst in some way for the formation of this group of industry professionals.
As quoted on the Image Forum flyer, we cinematographers are on the front line when it comes to image acquisition and 2 years ago we produced a series of camera tests, primarily designed as a response to the BBC pronouncement that 16mm film was no longer suitable as a means of image acquisition for their HD channels.
We thought this was a very bold statement and a worrying attitude on their part as it implied they had no interest in the future of film. As a consequence we at the BSC produced a series of camera tests, primarily to explore the differences between the various HD cameras, and the current film stocks available. This was a great success, and as a result we are planning another series of tests to incorporate the newer HD cameras and the advancements in film technology.