Congratulations to GTC member Richard Cook on outstanding cinematography (documentary) Emmy
below.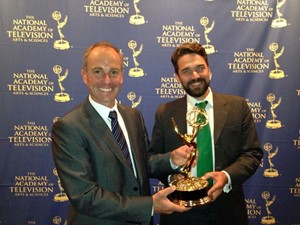 GTC member Richard Cook has added another very well-deserved award to the impressive collection he has already amassed (including a GTC Award for Excellence in this year's Awards) for his wonderful work on the BBC series Earthflight.
At the National Academy of Television Arts and Sciences 34th News and Documentary Emmy Awards presented in New York City on 1 October, Richard was one of the team from Winged Planet (Earthflight in the UK) to collect the Award for 'Outstanding Cinematography in Documentary and Long Form'.
The News & Documentary Emmy® Awards are major US-based broadcast journalism awards. They promote journalistic excellence by awarding coveted Emmys® to the very best news reports and documentary films aired on national television or streamed over the Internet each year.
Richard wrote about his work with bird trainer Christian Moullec on
the series for Zerb. To read the article 'Those Magnificent Men in their Flying Machines' from Zerb issue Number 78 click on the image below.