Could this be the ultimate multi-camera shoot?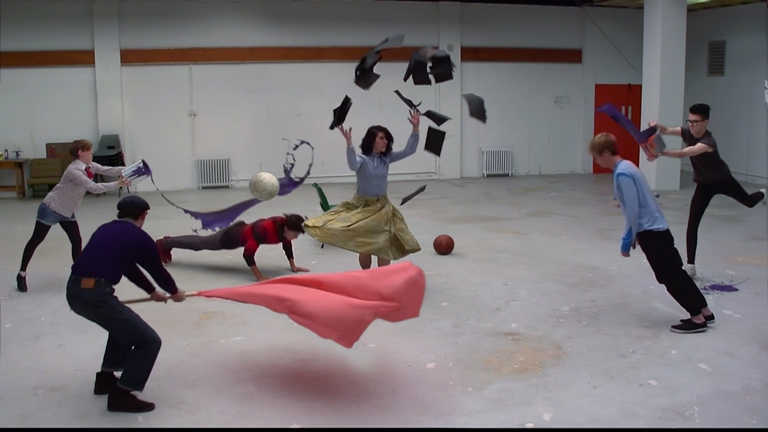 Now screening on a TV near you, Toshiba's £3million ad campaign manipulates 'moving snapshots of time' using some 200 Toshiba Gigashot camcorders. The campaign promotes Toshiba's new range of upscaling products – TV, DVD and laptops – that convert standard definition TV and DVD images to near high-definition quality.
Take a look at this:
http://uk.youtube.com/watch?v=JYPn1BrTNCE&eurl=http://socialnews.toshiba.co.uk/?ReleaseID=10457
You really need to run it several times to appreciate exactly what's happening, but it's quite extraordinary.
Made by Hungry Man's Mitch Stratten, via agency Grey London, it certainly opens up some startling possibilities for future productions. But don't get too carried away about 'low budget productions' though. The ad took some 350 hours in post and used over
20 Terabytes of storage at The Mill.
The cameras themselves were placed in a large circle around the actors (rather similar to Timeslice) but the difference here is that, unlike the latter, all the cameras were shooting simultaneously. Hardly surprising then that all that storage was needed.
With all the talk recently about using DLSRs to shoot HDTV, Toshiba's ad should open up yet more discussion about using alternative technology.
It's quite a brave move for anyone to use what are, after all, domestic HD camcorders for an advertising campaign aired on HDTV, let alone one that extols the virtues of HDTV technology. But one can't help thinking that hiring 200 HDW 900s may have been fairly expensive!
So how did they do it? We're not telling you yet; you'll have to wait for the in-depth article in the next issue of Zerb. Meanwhile, look out for the ad.