CVP-Mitcorp equip Liverpool John Moores University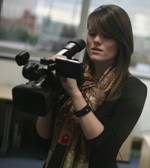 GTC Sponsors CVP-Mitcorp has supplied and installed a substantial number of Sony HVR Z1E cameras and Avid editing stations, plus peripheral equipment, to Liverpool John Moores University (LJMU). A UK leader for media education and training, LJMU is the only university in the North West to have received Skillset Media Academy accreditation. This major purchase will enable LJMU to retain its leading position and ensure its students gain valuable experience with industry-standard equipment.
The equipment also allows the university to standardise its technology across the newly amalgamated Liverpool Screen School, which now offers five degree courses in video production, journalism, broadcast engineering, iMedia (interactive) and digital games. The university previously catered for approximately 100 students at a time; with the new equipment it will be able to take up to 450 students across the different disciplines.
The new equipment includes 36 Sony HVR Z1E cameras, 35 copies of Avid Media Composer Academic software, 64 LG194 19" monitors, 32 HPXW4600 PC workstations with Avid-approved PYRO cards, with consultancy and installation provided by CVP-Mitcorp.

"Our courses are designed to offer students the best possible real-world skills so that they can hit the ground running as soon as they get their first jobs. Choosing Sony and Avid equipment means that our students gain up to three years of valuable experience on industry-standard equipment, which is a valuable commodity for employers," said Trevor Long, Head of Media, Professional Studies and Screen Studies, Liverpool John Moores University.
The camera and edit suite settings are consistent across the departments so that ingest and playout are quick and easy. The edit stations are set up with dual monitors, like a real post-production environment. Depending on the degree course, students learn the different production and post-production methods relevant to a variety of programme types including news, documentaries, dramas and studio shows.
LJMU is also a member of the Avid Mentor program, which is designed to help educational institutions deliver state-of-the-art media tuition. It offers a range of resources that help educators deliver professionally tailored instruction, and allow students to develop in-depth skills in their chosen area of study.
"Liverpool John Moores University offers a fantastic range of practical and vocational courses that will produce the content creators of tomorrow," said Mark Forth, Managing Director, CVP-Mitcorp. "The new Sony and Avid equipment provide the tools that will give them the best possible opportunities to succeed in the film and broadcast industries."

About CVP-Mitcorp Group
CVP (Creative Video Productions Ltd) acquired Mitcorp in January 2008 making it the UK's largest broadcast and professional equipment solution provider. The company are professional product dealers supplying production, post-production and delivery solutions with a turnover of over £30m a year. CVP-Mitcorp has over 50 employees with offices in West London, Soho, the Midlands, the North West and Scotland. www.mitcorp.co.uk