Dedolight wins Cinec Award for lighting engineering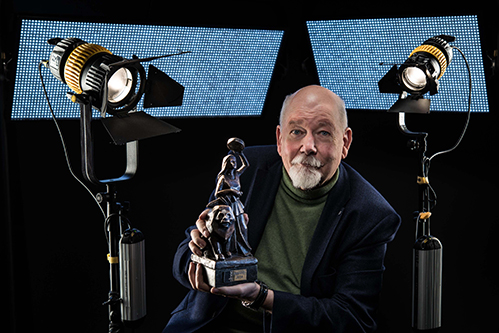 Dedo Weigert Film GmbH has won the 2014 Lighting Engineering Award at the biannual Cinec Exposition (International Trade Fair for Cine Equipment and Technology) held in Munich, Germany. The award was given for the company´s complete range of focusing Dedolight LED lights with aspheric optics.
According to company president Dedo Weigert: "What we did first was to change the principle of professional lighting fixtures, which for a hundred years have been built with a single, spherical Fresnel lens. We introduced a double lens system of non-spherical lenses and a zoom focus movement. The result was significantly more light, with improved distribution. Additionally our optics allow focus range exceeding traditional systems multiple times."
For each of the focusing Dedolight LED fixtures, the patented aspherical optic system had to be recalculated, to cooperate with the special LED light sources, co-designed by Dedo's team. The result is a new range of Dedolight focusing LED lights, now including 10W, 20W, 40W, 90W and 250W.
The new generation of focusing Dedolight LED fixtures earned Weigert's company its third Cinec Lighting Engineering Award. Dedolight´s LED aspheric-lensed studio and mobile lighting fixtures are now delivering worldwide.
For more information visit: www.dedolight.com