Did you know you can buy back issues of Zerb online?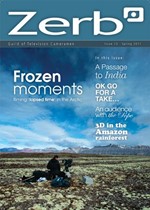 Back copies of most recent issues of Zerb, the journal of the Guild of Television Cameramen are available for sale - visit the Zerb section under Publications to view sample articles, lists of content and to buy copies online.
The latest issue, Spring 2001, out now, features articles about the making of the Award-winning OK Go video 'This Too Shall Pass'; shooting 3D in the Amazon rainforest and on a North Sea oil rig; stories from the Delhi Commonwealth Games; reviews from GTC members of the Sony PMW500 and the Canon XF305 and XF105 - and much, much more.
We were delighted that Mic Waugh, winner of the GTC Award for Excellence (Entertainment) made time to write about filming the sensational 'This Too Shall Pass' one-shot (Steadicam) music video for Zerb - if you haven't seen it yet, watch the video and behind-the-scenes footage of the shoot below.