Do you need a new camera car?
Would you like to test drive a new VW Caravelle?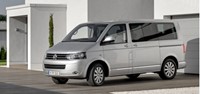 In the market for a new camera car? Or maybe you're looking for a people carrier for thefamily that you can also load the gear into on work days? Sometimes it's hard to assess a vehicle's suitability in a short road test from the garage.
The Guild of Television Cameramen, in conjunction with Volkswagen Commercial Vehicles, is offering a GTC member the opportunity to properly test out this great vehicle for a week. The only slight catch is we will require you to write an article for GTC In Focus about the suitability of this vehicle as a camera car.

The only conditions are that you must have a full UK driving licence, with no more than
3 penalty points recorded on the licence, and that you will not use the vehicle in extreme environments or conditions.

Oh... and you must commit to write that report within an agreed time frame. The date of the week's road test will be arranged by discussion but the VW Caravelle will be on display and potentially ready to drive away at the GTC's Big Day Out in Wiltshire.

Click here to see the full spec of the car.