Extraordinary HD shot of The Mall on Royal Wedding Day
Seen on the BBC website, this extraordinary HD 1.15-gigapixel picture which is a composite of 189 images. The full picture measures 81,471 pixels by 14,154 pixels. The field of view covers 200 degrees and the resolution is such that you can zoom right into faces of the crowd and camera crew alike.
If you were in the Mall on Royal Wedding day visit http://www.bbc.co.uk/news/uk-13200114 to see if you can spot yourself - let's just hope you weren't doing anything you shouldn't have been at that precise moment!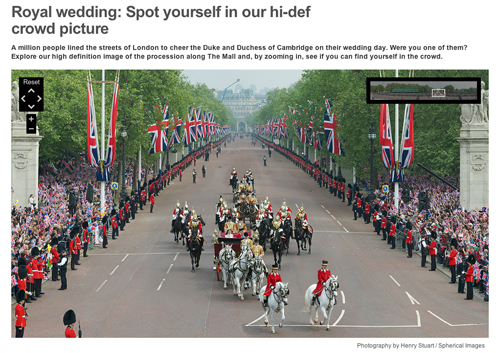 The photograph is credited to Henry Stuart of Spherical Images. You can see more about how Spherical Images create images like this at www.sphericalimages.com