Fantastic GTC helicopter workshop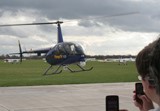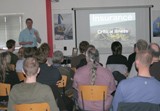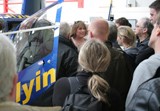 The GTC 'Shooting from Helicopters' workshop generously hosted by Mike Smith of Flying TV HD at Denham Aerodrome was a huge success. Apart from Mike and co-host Monica Wyer of Flying TV, the speakers were the GTC's very own experienced aerial cameramen Alan Duxbury and Rex Palmer. Rex also stood in for Laurie Gilbert relaying information supplied by Laurie who sadly was unable to fly in from Malaysia for personal reasons. Thanks also are due to VisLink who provided a downlink from the helicopter and a remote radio camera so pictures could be sent back to the presentation area.
More detailed reports of this ambitious and hugely successful day will follow but the mood of those who attended can well be gauged from the overnight comments below. A fun and exciting climax to the day came when GTC members Max Hodgetts and Phil Nixon won the chance to hover a helicopter! View stills and footage of Phil and Max's hover challenge.
You have to ask yourself what other organisation offers the chance to attend workshops of this standard to members on a regular basis completely free as part of the membership subscription?
Thankyou for organising a superb workshop for the lucky few...The workshop hit the spot ... even if I didn't perform 100% on the 'Hover Challenge' ... trousers changed now!
Phil Nixon
I had a great day at one of the best workshops ever!. A truly brilliant day, thanks Mike, Monica and Q and everybody at Flying TV who organised a truly memorable day. Also, many, many thanks to Clive North and the team for making all this possible.
Well done Phil and Max for taking part in the 'Hover Challenge'.
Brian Benjamin
Thanks to Clive North, Mike Smith and the team at Flying TV for organising today's workshop. Another superb GTC workshop and yes I have changed my trousers after the hover challenge! Yes, I have the flying bug now.
Max Hodgetts
Congratulations Clive on arranging a very well attended and superb GTC workshop. Mike Smith's generosity to the Guild is to be much applauded, and many of us will for ever be indebted to him for this day.
Congratulations to Alan Duxbury, Rex Palmer, and Laurie K Gilbert's stand in. We know Laurie is irreplaceable, but Rex did a pretty damn good job.
Congratulations also to the two novice pilots, who did a fantastic job. Just watching the antics of both of you from the remote camera was putting my heart in my mouth at times. I was quite relieved when you had both landed. Sincere congratulations to both Maxwell Hodgetts and Phil Nixon.
Dick Hibberd
I almost became an absentee but was able to attend and having experience (limited) of camerawork from helicopters, this was an invaluable workshop to the shared valued knowledge of planning, safety and current legal requirements.
An excellent day and I have signed up for the introductory flying offer to GTC attendees on the day.
Eric Samuel
Just want to say thanks to everyone who orginised the day was a real eye opener,
had a great time and learnt lots.Thanks
Paul (pibs) Davies