Former GTC Forum administrator Andy Smith presented with Honorary Membership of the GTC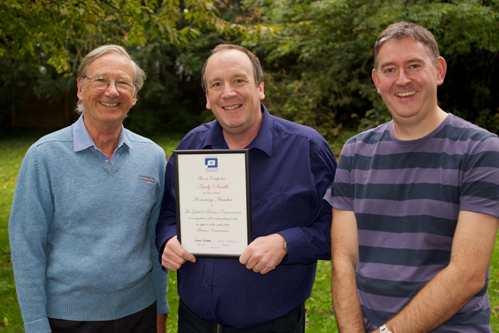 This week GTC Council Members Rex Palmer and Max Hodgetts were pleased to present Andy Smith, who recently stepped down from his role of GTC Forum Administrator, with a very well-deserved Honorary Membership of the Guild of Television Cameramen.
Andy carefully moderated the Forum on behalf of members with great dedication and sensitivity for many years and was instrumental in building it up to the very valuable and well respected resource for GTC members that it is today. The Honorary Membership is a small offering of thanks from the Guild to Andy for the late nights and many hours spent in this cause.
In the picture: L: GTC Membership Officer Rex Palmer; Centre: Andy Smith with his certficate of Honorary Membership; R: Council Member Max Hodgetts.