Gekko Technology to sponsor GTC website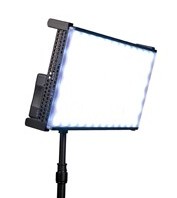 The GTC is delighted that Gekko Technology has decided to sponsor the 'About the GTC' section of www.gtc.org.uk.
Gekko Technology is a UK owned and operated company, based in the West Midlands. Started in 2004 by David Amphlett (a cameraman of considerable experience in documentaries, concerts and pop promos), the company has invested heavily in R&D to produce a market leading range of LED based lighting fixtures, which are at the cutting edge of the technology.
Gekko's current product portfolio consists of a range of on- and off-camera fixtures. Kisslite, Gekko's flagship product, is a ring light which has proved successful globally in both sales and rental. Its credits to date are numerous and include most recently Casino Royale, Quantum of Solace and, closer to home, New Tricks and Waking the Dead.
This year promises to be an exciting one for Gekko with the launch of two major new product lines. Firstly, Karesslite, a soft panel fixture (seen above left), will be available in at least two size formats as well as studio and location configurations. The capacity to run on V-lock batteries gives the light complete independence.
Gekko's kleer colour technology which was launched at IBC last year, (where it won a TVB award), will also be available in the world's first range of LED based, short throw focusable lamps. The first fully fledged product to use the technology will be released in the Spring.