GTC member Martin Hawkins collects RTS Lifetime Achievement Award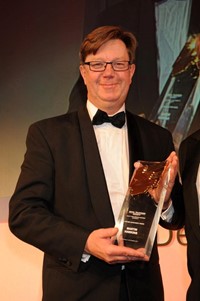 Huge congratulations to GTC member DoP
Martin Hawkins who has been awarded the top award at this year's Royal Television Society Craft and Design Awards – the Lifetime Achievement Award.
Martin collected the award on Monday night at the Savoy Hotel in London, at a gtizy ceremony hosted by Myleene Klass.
The RTS introduced the Award thus: The recipient of this special award made his mark in the late 80s, running across fields chasing a young woman in Challenge Anneka. This is where he perfected his hand-held camera technique as well as getting extremely fit.
Very soon he would make an even bigger impression on many of the top comedy series of the last 20 years, shows such as Drop the Dead Donkey, Birds of a Feather, Harry Enfield, Vicar of Dibley, Little Britain, Peter Kay's Live Shows, French and Saunders, Outnumbered, Armstrong and Miller and The IT Crowd, to name but a few.
His sense of humour and infectious laughter, combined with his skill at lighting and capturing the story have made him the first choice for many producers and directors. He is a joy to work with.
Martin has gone on to work especially well with writer/
performer/directors such as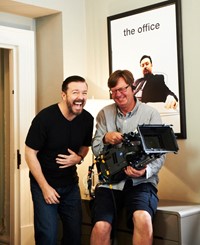 Richard Ayoade on Garth Marenghi's Darkplace, and more recently with Ricky Gervais and Stephen Merchant on Extras and Life's Too Short.
Here is what Ricky and Stephen have to say about Martin who they have dubbed 'The Hawk':
"The Hawk is one the finest DOPs we've worked with and he has a great pair of knees, which he shows off by wearing shorts whatever the weather.
On set he's always calm and full of good-humour - and always does a terrific job whatever shooting style we throw at him - which could be hand-held documentary one minute, phony Hollywood blockbuster the next.
Congratulations on your Lifetime Achievement Award, Hawk, much deserved. Although it better not push your price up."
Peter Kay, another huge fan of Martin, sent this message:
I've worked with Martin on many occasions since
I entered the business of show, and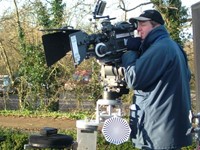 in that time we've been in prison together, trapped in a woods overnight, as well as in the back of a motor home with a flatulent pig.
Comedians love to work with Martin, this is because his skills as a cameraman are only slightly superseded by his fantastic sense of humour. I truly believe he inspires the comedians he works with. That's why we all want to work with him. He helps generate an atmosphere on set that's often superior to the finished product itself.
He still remains the first person I call when I want to start working on a new project and it's usually before I start writing, as he's always so bloody busy. This is testament to his well-respected talent and why he richly deserves this award tonight. But most importantly for me, he remains a very good friend and knowing him right now, this will be one of the rare occasions when his tears for once, won't be from laughing."