GTC announces the Bill Vinten GTC University Award
Bill Vinten GTC University Award 2012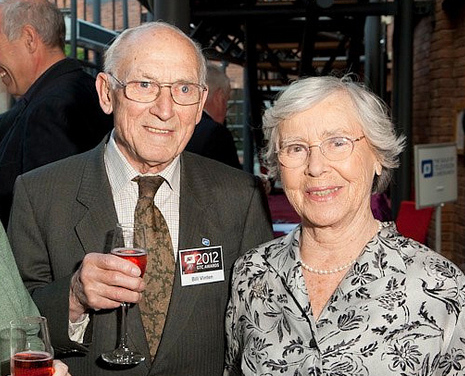 At the 2012 Vitec GTC Awards/AGM held in Birmingham on 11 May, The Guild of Television Cameramen was delighted to announce the Bill Vinten GTC University Award which will recognise universities who teach and graduates who demonstrate outstanding camera craft skills.
The Bill Vinten GTC University Award will include:
a prestigious trophy
membership of the GTC
work experience for the winning graduate.
The award will be funded through a charitable trust generously set up by Bill Vinten and will focus on providing funding for work experience bursaries and grants for workshops aimed at new entrants in the industry.
See the rules for applying for the Award.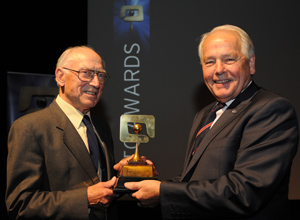 Bill Vinten OBE is an ex-lighting cameraman and the driving force behind the innovative and acclaimed television camera pedestals which Vinten has manufactured since the 1950s. Bill Vinten was awarded the GTC TiCA Award in 2010 for his lifetime contribution to 'fostering and improving the art and craft of the professional television cameraman'.
The GTC has a long and much valued relationship with Vinten whiich is one the Guild's most longstanding sponsor companies and Bill Vinten points out that the benefit has been mutual:
"The Guild of Television Cameramen has been invaluable in assisting my lifetime task of making it possible for a camera always to be in the right place, correctly framed and focussed. I shall be forever grateful for the time and advice that Guild members have given.
The Guild is an effective organisation and a much respected upholder of camera craft skills and I hope that this award will allow a new generation of cameramen to appreciate and benefit from the craft and creative skills of Guild members."
Bill Vinten
"Bill Vinten has always been a staunch supporter of the GTC, since its inception, and he is again showing his personal support and generosity by making this award possible. The Guild of Television Cameramen will forever be indebted to him. Thank you Bill, and thank you on behalf of all the Guild Membership of today, and all those in the future."
Dick Hibberd, President GTC
Further explaining the motivation behind the establishment of this exciting new award, the current chairman of the GTC award explains:
"The future and success of our craft relies not on the quantity but on the quality of new entrants. Bill Vinten's generous offer will allow recognition to be awarded in the most advantageous way to encourage and champion a successful career in camerawork."
Graeme McAlpine, Chairman GTC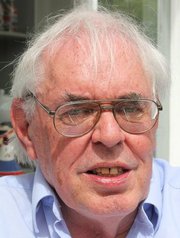 Much of the credit in bringing this award to fruition goes to GTC member Stuart McKears who has put in a huge amount of work in shaping the infrastructure of this exciting new initiative aimed at encouraging young entrants to television camerawork and upholding valuable skills in our industry.
For more information about the Bill Vinten GTC University Award contact Stuart McKears on:
vintengtcaward@mckears.com
07546 285802 or 01243 821425
"While craft skills can never replace content, craft skills will always enhance content."