GTC Chair Keith Massey backs Yorkshire to regain 'TV powerhouse' status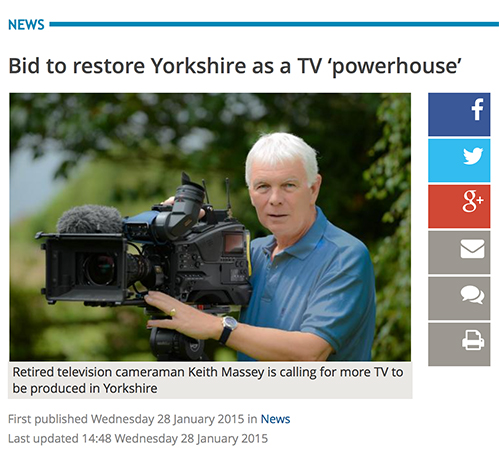 GTC Chair Keith Massey is calling for more TV to be produced in Yorkshire – and for more opportunities and training for young programme-makers.Keith, based in Yorkshire, has written to all 51 Yorkshire MPs asking them to support more funding for TV in the region. He is calling for more regional creative production with good budgets at broadcasters ITV Yorkshire, BBC Yorkshire and the region's independent production companies. His campaign has been picked up and reported in the York Press.
Keith says: "Many camera and production talent used to cut their teeth in the regions, as well as reporters, but sadly many can't get through the door these days – mainly because the BBC Nations and Regions adopted one-man band video journalism with an accent on short news items and also letting anyone pick up a domestic camera.
"I think this model has gone well past its sell-by date and I would like to see far more adventurous creative filming that reflects the region and its people and doesn't just react to news. Screen Yorkshire has done an incredible job on the cinema and prestigious TV drama side with investment in production and talent."
He adds that Yorkshire was once a 'powerhouse' but when ITV ran into serious financial problems a few years ago, Yorkshire Television was hit very hard, losing much of its production and talent. However, ITV is in a stronger position now.
York Outer MP Julian Sturdy has replied that he fully supports the campaign, saying: "Increasing the level of television production can only be a good thing for our county, bringing more jobs and training for all ages." He is looking forward to meeting Keith next month to discuss how he can be of assistance to the campaign.