GTC Children in Need certificate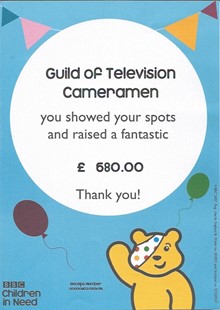 Total raised: £680
Many thanks to all the GTC members who either pledged money or sent in pictures to the GTC Children in Need fundraising effort in November.
For every picture submitted by a camera professional working on a Children in Need event GTC members pledged to give £1 to Children in Need.
We've now received a certificate from CiN showing that we raised a very creditable £680.
The GTC supports several industry charities, including Film & TV Charity, Dreamflight, First Light, the Vision Charity and Rory Peck Trust. See more about these charities at: GTC charity work.
The CiN appeal was a simple way of raising money for a good cause – if you have any ideas for other ways in which the GTC might support worthwhile causes please do contact the GTC Welfare Officer, Chris Yacoubian.