The Pyser–SGI/GTC Heads of Technology panel discussion
The GTC was pleased to host a fascinating HD panel discussion with Bill Garrett of the BBC, Bevan Gibson of BSB, Mark Chaplin of ITV and Andrew Pearson of Channel 4. The seminar's introduction by Alan Roberts opened our minds to the mind-boggling array of HD formats and codecs available, illustrating the reasons for the current confusion in the market. Bill Garrrett developed this theme by recommending that cameramen not buy their own cameras at the moment. One of the alternatives being considered by the BBC is that they provide the kit – which led to a discussion on the horny old question of freelance camera operators' tax status. Garrett is anxious to protect the Schedule D status of freelancers working for the BBC and to that end has set up a meeting with the GTC, BECTU, Skillset and other interested parties with a view to defining camera roles in a way that will be acceptable to HMRC. He urged members of the GTC to discuss this matter on the Forum prior to the meeting on 22 October 2008.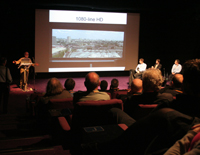 The discussion moved on to the definition of true HD with Alan Roberts querying whether 720P is really HD. This provoked a robust reply from Marc Irwin of Panasonic. Opinions from the heads of technology varied on this matter with Mark Chaplin stating that ITV have a fairly relaxed view on the definition of HD, preferring to judge perceived picture quality rather than technical specifications, whereas Andrew Pearson from Channel 4 said that their definition of what constitutes HD is very strict and is set at HDCAM SR. He acknowledged that this precluded a large number of owner/operators from supplying material and so they are looking ways of relaxing the definition.
Although still working in the SD area of Sky News, Bevan Gibson made a valuable contribution to the debate by saying that it is important that all cameramen working in modern news environments need full training not just in cameramwork but also in the areas of IP and editing.