GTC Incident Report Form launched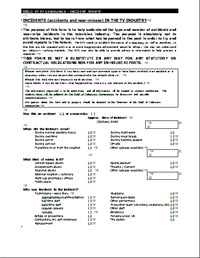 Have you been involved in or witnessed an accident or near miss while working? If so, the GTC would like to hear about it.
In order to help understand the type and number of accidents and near miss incidents in the television industry the GTC has launched its own incident report form for members to complete in the case of an accident or near miss.
The purpose of this is absolutely not to attribute blame, but to learn from what has happened in the past in order to try and avoid repeats in the future. The GTC wants to establish the causes of a near miss, as well as accidents, so that they are not repeated and so as to avoid inappropriate enforcement action by officers who may not understand our industry's working methods.
The GTC may also be able to provide advice or information to help prevent a repetition.