GTC member Jim Cemlyn Jones entertains snooker audience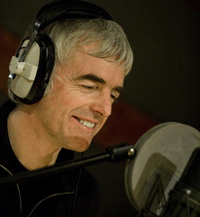 When the Dafabet Masters snooker at Alexandra Palace was plunged into darkness due to a power cut this week the organisers were left wondering how to entertain the audience while the technical problems were sorted out.
After a quick bit of audience participation singing 'Happy Birthday' for someone in the crowd, it was pointed out that cameraman and accomplished singer/songwriter/guitarist Jim Cemlyn Jones had his guitar in the car. Jim, who always travels to work with his guitar and uses any downtime to pen and practise new songs, appeared through the gloom, lit only by the audience's phone lights (in true rock concert style), to perform a well-received acoustic version of his own song 'Love the Feeling'.
GTC members who have worked with Jim will already know all about his talent as he regularly performs and even released an album 'All These Dreams' a few years ago. Zerb readers may also be familiar with the story as the magazine ran a feature about Jim's alternative career in 2011. Read the Zerb article about Jim Cemlyn Jones.
What nobody might have expected is that the story of Jim's improvised crowd-pleasing act would catch the eye of the news channels making it onto various BBC news bulletins including 5 Live Breakfast on which Jim was interviewed by Nicky Campbell.
Watch the moment when Jim sang to the Alexandra Palace snooker audience: