GTC member Peter Heap wins Miller classic tripod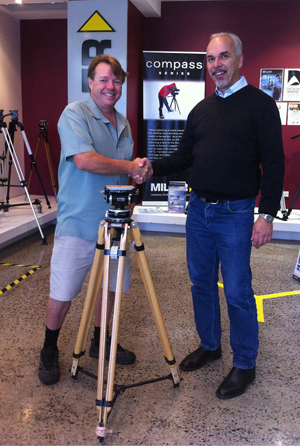 Australian GTC member Peter Heap (also a member of the Australian Cinematographers Society; ACS) was recently delighted to find out that he had won a Miller LP '54 Classic Tripod.
GTC sponsors Miller had offered the sought-after tripods in a charitable raffle in aid of the Motion Picture Industry Benevolent Society (MPIBS), staged at the 43rd ACS National Awards for Cinematography, as part of Miller's 60th anniversary celebrations.
"Numerous ACS members have used, or still own, Miller tripods; in fact, many still own our original wooden tripods that were developed more than 30 years ago," says Mark Clementson, Managing Director, Miller Camera Support Equipment. "We chose to host the charitable raffle at this event as a way of giving back and showing our appreciation to the many industry members who have supported us over the years."
During the evening's festivities, Clementson announced Peter as the winner of Miller's charitable raffle. "I feel like I've won two prizes – the first was the chance to donate to the MPIBS and the second was to actually win the LP '54," Heap says. "I used to lug these tripods around as an assistant cameraman at The ABC, Australia's public broadcaster. And now I have the luxury of owning one in pristine condition, and I don't have to lug it anywhere. I can't think of a better arrangement!" The beautifully crafted collectors' wooden tripods have been made as part the ongoing Miller anniversary celebrations.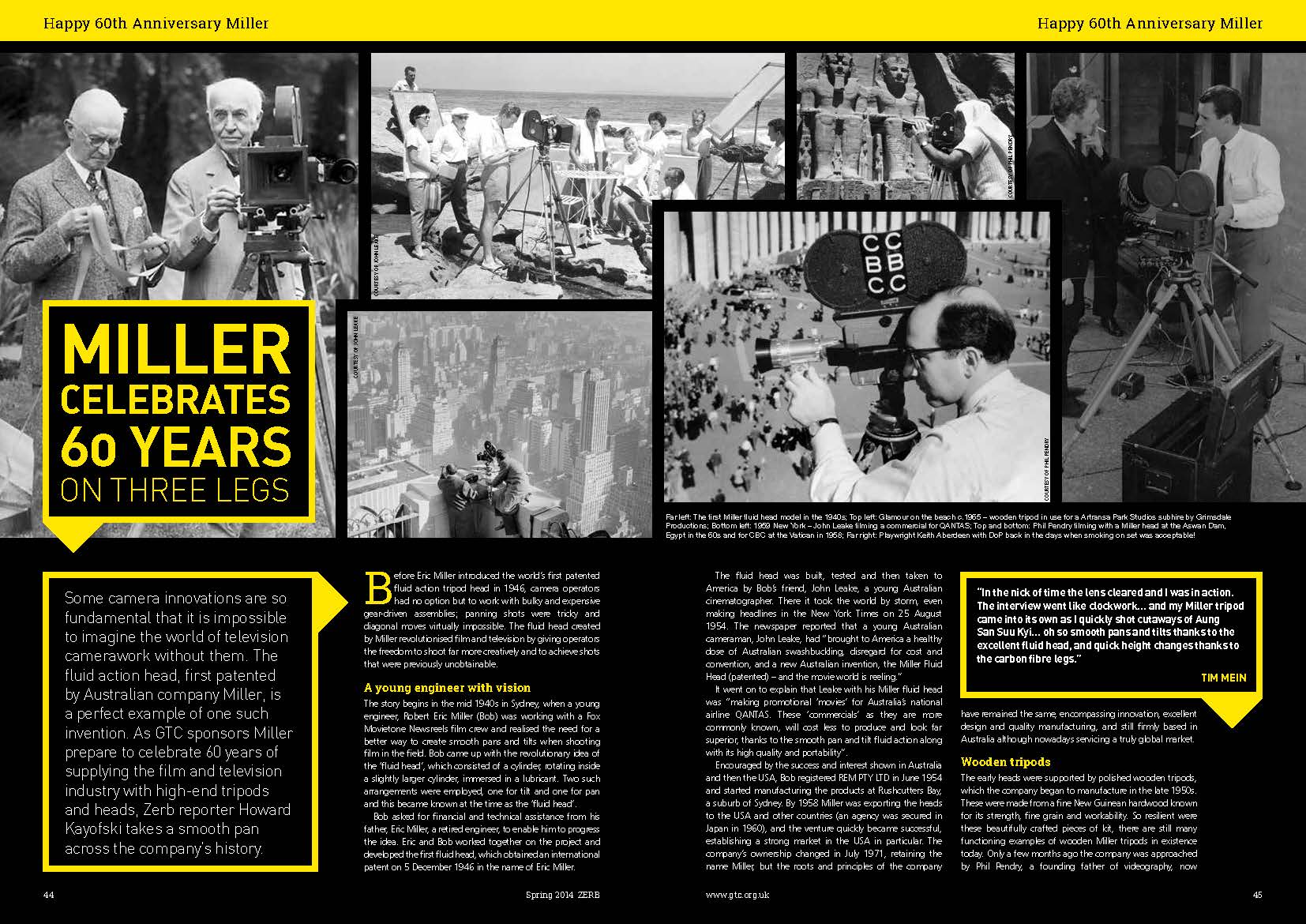 In a nice twist of fate, Peter was the most recent guest editor of Zerb magazine and one of the articles that he suggested and set up for the Spring 2014 issue of the magazine was a retrospective of 60 years of the Aussie company to coincide with its anniversary. Read the Zerb article about Miller's history.
Also in a nice echo of the GTC's own recent raffle in aid of the UK equivalent industry charity the Cinema and TV Benevolent Fund (CTBF), held at the GTC Awards 2014, all the donations raised during the raffle at the ACS event will help the MPIBS continue to provide both financial and emotional support to past and present industry members who are encountering difficult times. "Miller is honored to be able to support the MPIBS in its efforts, and we would like to thank everyone who took the time to participate in the raffle and donate to this incredible organization," adds Clementson.
See more about Miller Camera Support Equipment

To learn more about MPIBS, visit www.cinemapioneers.com.au/mpibs
The next issue of Zerb - Number 80, Autumn 2014 - will be out in August.