GTC members head for Orlando with Dreamflight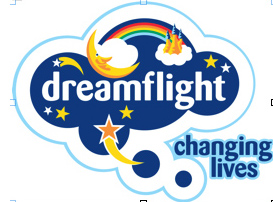 This Saturday, the GTC Chairman Graeme McAlpine and several other GTC members will depart for Orlando, Florida as volunteers on the annual Dreamflight charity trip to America.
The very first Dreamflight took off for Orlando in 1987. It was intended to be a 'one-off' trip, just to prove it could be done, but this year Dreamflight is celebrating its 25th Anniversary.
Every October, Dreamflight charters a 747 aircraft and takes 192 sick and disabled children on a 10-day holiday to the theme parks of Florida. They do not take any parents, but a large medical team of doctors, nurses, physiotherapists and volunteers to administer to the children.
It is not just the holiday of a lifetime for these children, but has become a life changing experience. In 2008, seven of the Paralympic medalists had been Dreamflight children. They all said that 'Dreamflight changed their lives and made them realise they could make something of their lives despite their disability or illness.'
Six of the volunteers on the trip will be 'self shooting' cameramen, making individual DVD diaries for the children. The charity has two distinct uses for video. Most important is the video diary, that captures a lasting memory of the holiday for each child, as well as relaying the experience to the parents and other loved ones who have stayed at home. The second function is fundraising and increasing awareness of the charity.
Dreamflight recently bought three Canon XF105 cameras to replace their Sony PD170s. These lightweight HD camcorders seem ideal for the rigours of filming in the theme parks.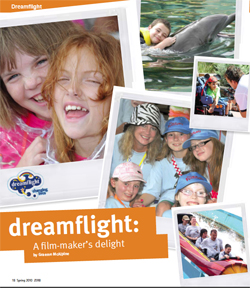 Graeme McAlpine says: "We have been very lucky that Guild member Jon Boast has secured the free hire of an additional three cameras from Procam TV, Hammerhead and Hire a Camera.com. Many thanks to these excellent hire companies for supporting such a worthwhile charity as Dreamflight."
Read more about the work of Dreamflight and how GTC members have been involved over the years in the article (click on the image right) from Zerb Spring 2010.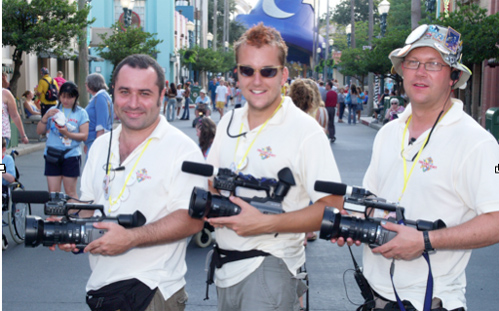 Cameramen Ian Garvin, Jon Boast and Rhys Morgan in Orlando on the Dreamflight trip last year.