GTC out and about at exhibitions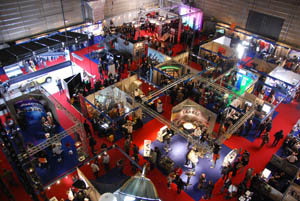 The GTC has been getting out and about at industry exhibitions. Following a very successful showing at BVE, the Guild was represented at the recent well-attended BSC Show 2010.
The BSC Show is rapidly acquiring a reputation as one of most relevant shows for camera crew with around 50% of the 1559 who attended coming from the camera department.
The GTC delegates were busy fielding enquiries about the Guild and our 'products' such as Zerb, GTC In Focus and outstanding programme of workshops attracted much positive interest.
The next exhibition at which the GTC will be exhibiting is Broadcast Pro Video Northern (BPV North) at Haydock Park Racecourse on Wednesday 5 May.

Exhibiting alongside the GTC will be Sony, Panasonic, Grass Valley, DSM Broadcast Power, H Preston Media, Manfrotto, Rotolite, Libec, Ianiro and many more companies of interest to cameramen. Plus Alister Chapman will be holding master classes.