P2 or not P2 - live from Bristol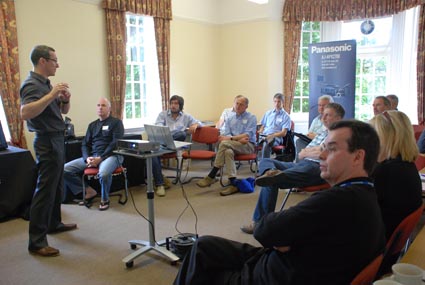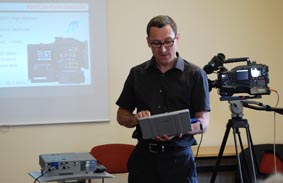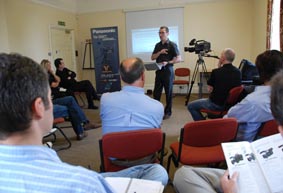 Currently in progress at the Bristol Conference Centre ... a spirited discussion between the Panasonic team and GTC members attending the first in our series of summer regional workshops on the whys and wherefores of the P2 workflow.
Never more important than in the current climate of confusion surrounding the multitude of formats available to both cameramen and producers, this frank exchange of opinions between working cameramen and the manufacturer harks back to one of the very first aims of the Guild of Television Cameraman. At its inception, one of the early goals of the GTC was to open channels of communication between those actually using cameras and those making and marketing them. Thirty-five years on, and with the workforce now almost exclusively freelance, this dialogue is more useful than ever ... both to the owner/operators and the manufacturers.
Topics covered so far include the need for P2 cards to be truly affordable, the logistics and problems of download time, and the difficulties surrounding persuading smaller independent clients to accept new formats.
If you couldn't make it today to Bristol, then try to get along to Salford University on 21 July 2009 (full details at P2 or not P2 in Manchester) or to Panasonic's new Experience Centre in August (date to be announced).
To book a place on the Manchester workshop contact Workshop Organiser Clive North on clivenemail-gtccouncil@yahoo.co.uk