GTC raises £2500 for the CTBF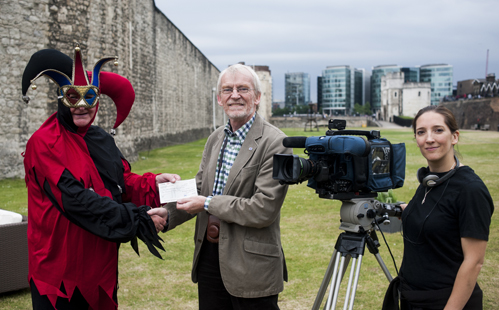 At the GTC's recent Annual Awards day, this year the Guild decided to raise money for the Cinema and Television Benevolent Fund (CTBF). This was achieved through a raffle and was very generously supported by many of our sponsors. Prizes included:
Ninja Blade donated by Atomos
Phantom FC40 Quadcopter from Production Gear
Glidecam HD2000 gifted by Glidecam
Miller Solo Pod 311 from Miller
plus many other prizes from ARRI, Cordwallis, PAG, Tiffen, Electra and Finepoint.
The GTC is very grateful for the generosity of all the companies who donated such great prizes.
The CTBF is the leading UK charity for people working behind the scenes in the film, cinema and commercial television industries. It exists to support creatives, production professionals, marketers and administration staff involved from script to screen, who find themselves in times of need for one reason or another. Through donations, membership subscriptions and events including The Royal Film Performance, the charity is able to help more than 1000 beneficiaries and their families every year.
Thanks to the support of the many attendees during the GTC's 'Day in the Country', and the hard work of John Tarby and Helen Keep, we were able to raise £1000 from the raffle. This was later supplemented by an amazing anonymous contribution of £1500.00, taking the total raised during the day to an unprecedented £2500.00. Many, many thanks to all those who took part.
The GTC's involvement didn't stop there though. Following a request from the charity, GTC members John Tarby and Anna Carrington volunteered to film the CTBF's London Party on 26 June at the Tower of London, at which some £150,000 was raised by industry luminaries. Later, Anna and John were able to present a cheque to CTBF President Barry Jenkins MBE.
GTC Welfare Officer Brian Rose says,"It is really very gratifying to see so much support for this important charity. They have recently given continuing support to a Guild member through his recent illness (you will be able to read more in the next issue of Zerb). One important thing to remind everyone is that although we were able to support CTBF on one night, they are there to support all of us 365 days a year."
You can find out more about the work of the CTBF here: www.ctbf.co.uk