GTC sponsors ARRI celebrate the Oscars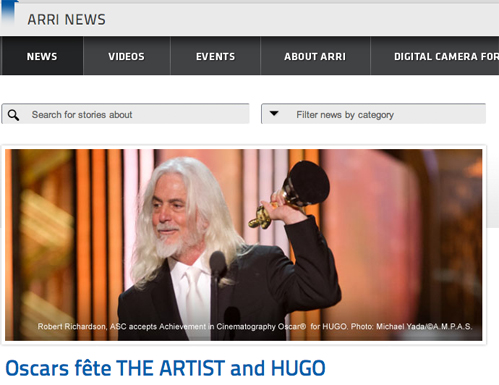 GTC sponsors ARRI are celebreating their successful involvement with last night's Oscar ceremony's big winners, The Artist and Hugo. The films each took home five Oscars, including Best Picture and Best Cinematography, respectively.
Both movies highlighted the magic of filmmaking as central themes, yet each production used very different cinematographic techniques. Silent, black-and-white film, The Artist was shot by cinematographer Guillaume Schiffman, AFC, in 35mm on the ARRIFLEX 435 Extreme, while Hugo was lensed by Robert Richardson, ASC, in 3D stereoscopic, using ARRI ALEXA cameras supplied by Cameron Pace Group. This marks the very first time a fully digital project has won for Best Cinematography (Avatar and Slumdog Millionaire both used film for certain sequences).
Further recognizing the technical brilliance of Hugo, the Academy bestowed its award for Visual Effects on this film, with the accolade shared between Rob Legato, Joss Williams, Ben Grossmann and Alex Henning. Rob Legato was involved in preproduction tests of the ARRI ALEXA and this award justifies his belief that the ALEXA was the ideal choice for this visual effects-heavy production.
The film painstakingly recreated the magical world of director George Méliès, utilizing ALEXA and 3D stereoscopic to engage audiences. The Oscar was Richardson's third successful nomination (out of seven); previously he won for The Aviator and JFK.