GTC sponsors Black Magic launch new digital cinema camera
GTC sponsors Blackmagic Design revealed one of the most talked about new product developments at NAB this year - their brand new Cinema Camera. The camera, which is Blackmagic's first camera launch, is built around a 2.5K sensor and provides an impressive 13 stops of dynamic range.
The camera works with EF mount lenses and the rear side of the camera is a large
5" LCD touch screen display providing access to the full camera settings (including frame rate, shutter angle, colour temperature, dynamic range, focus assist settings and more). You can also bring up a Smartphone-type keyboard for entering metadata, which is written to the image file so all the information is automatically transferred to the editing system in post.
The Blackmagic Cinema Camera uses standard file formats. Recording native 2.5K resolution uses the open CinemaDNG format, so you get full 12-bit RAW recording quality using the built-in SSD recorder, and the benefit of industry wide compatibility. For even greater compatibility you can also choose 1080HD recording into ProRes and DNxHD compressed video formats.
Blackmagic's Cinema Camera has a series of standard connections at the side, including standard jack audio connectors and SDI and Thunderbolt connectors for very fast transfer of rushes from the camera to a Mac for editing. It also has a built-in microphone and speaker for immediately reviewing audio.
The Blackmagic Cinema Camera is compatible with EF and ZE mount lenses, so you can use the lenses you already own. You are not locked into any specific lens and you can choose the lens you need based on the creative style of your shot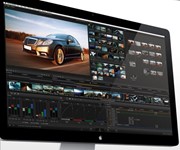 The Blackmagic Cinema Camera includes full DaVinci Resolve 9.0 software for Mac and Windows, so you automatically have access to the same colour correction technology used by top cinematographers. It also includes Blackmagic's Ultrascope waveform monitoring as standard.
Blackmagic is selling the camera body only and isn't going to develop its own EF lenses. The cost of the camera is £1925 which includes the DaVinci Resolve grading software and Blackmagic's UltraScope software. The camera is available to order now and will start shipping in July.
See much more about the Blackmagic Cinema Camera at:
www.blackmagic-design.com/uk/products/blackmagiccinemacamera