GTC sponsors Vinten support Ravensbourne's graduation festival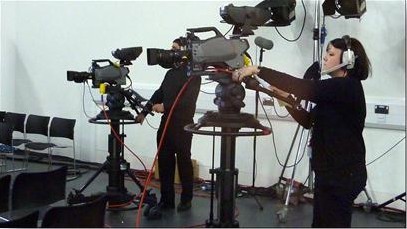 GTC sponsor company, Vinten, is one of the headline sponsors at the Ravensbourne2011 event – a two-day creative festival taking place today and tomorrow at well-respected Ravensbourne College.
The graduate degree event will showcase the Ravensbourne students' multidisciplinary talents and demonstrate their innovation and industry-ready skills, portfolios and work. The annual event, which has been organised and designed entirely by the student body, is being held in-house for the first time at the college's brand new RIBA award winning building in South East London.
Vinten's sponsorship of the live Ravensbourne2011 show is part of the company's continuing relationship with the college. Ravensbourne recently selected a range of Vinten pedestals and heads to equip its state-of-the-art studio, part of its move to a new campus on the Greenwich peninsula. The new site features a five-camera live HD production studio, fitted out with Vinten's Quattro, Quartz and Osprey pedestals as well as the latest Vector 430 pan and tilt head.
Peter Harman, Vinten's product manager said: "The future of the broadcast industry depends not only on the technological advancements in products from companies such as Vinten, but also the creative talents of individuals like these graduates from Ravensbourne. This festival is about people and product innovation, and we are very proud to be one of the main sponsors".
Day one of the festival will focus on 'elegant entertainment' and will feature a fashion gala, animation and film showcase, and private design viewings. On day two the college will host the broadcast and media showcase and design exhibition as well as numerous interactive exhibitions and installations.
Martin Uren, broadcast technology subject leader at Ravensbourne, said: "Our relationship with Vinten has helped our undergraduates to develop industry-focused skills as they are able to work and study in a real-world high-definition broadcast environment, using equipment found in some of the most advanced studios around the globe. This annual event is a great opportunity to showcase the highly skilled students' new talents which will no doubt reflect the quality of products that they trained on."
See more about Vinten at: www.vinten.com