GTC sponsors Top-Teks and Octica Professional work together to establish high-tech lens test centre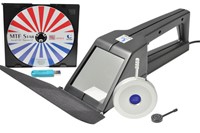 GTC sponsors Top-Teks have set up a new optical clean room lens test and service centre at their base in Harefield, Middlesex. Their new lens centre includes investment in the latest high-end test equipment from German manufacturer Chrosziel. Chrosziel provide the highest specification lens bench test equipment and recently released their latest software based MTF Star lens performance measuring system. Top-Teks have taken delivery of a full Chrosziel optical test system including Collimator, Projector and MTF Star system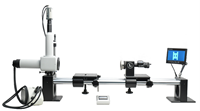 and will now operate one of the UK's most dynamic and professional lens test centres.
Trevor Porter, technical director at Top-Teks said: "With this new equipment we can efficiently test not only the lenses we have serviced but also offer a service to test users' lenses prior to any important shoot or check them before or after a rental."
Mike Thomas, Sales Director at Top-Teks, added: "As a prime supplier of the Sony F65 and Canon C500 cameras we are in the forefront of high end digital cinema and the emphasis now on PL lens performance is very demanding. Our customers need to know that the lenses we supply new or serviced are in prime condition and the MTF reporting software can supply them with documentary evidence the to confirm this."
The MTF Star system introduced last year by Chrosziel has already been established in Germany and at lens manufacturers as a standard. Uniquely it will give a printout of the lens MTF and can measure to a resolution of 100 lp/mm (line pairs).
The equipment was supplied to Top-Teks through UK & Ireland Chrosziel distributor Octica Professional, also a GTC sponsor company.
For further information contact
www.top-teks.co.uk
www.chrosziel.com
www.octica.tv