GTC Vice Chairman John Henshall honoured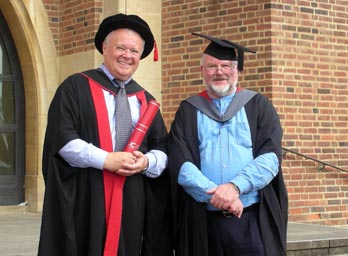 The work and career of pioneering cameraman and photographer John Henshall, joint vice chairman of the GTC, has been recognised with an honorary degree from UCA (the University for the Creative Arts) awarded in Guildford Cathedral last week.
John is in illustrious company as also awarded honorary degrees this year by UCA are Oscar winning cinematographer Billy Williams, OBE, BSC, architect Sir Terry Farrell, broadcaster and journalist Janet Street Porter, creative director James Spence, and philanthropist Dame Vivien Duffield.
The citation of John's work read: John Henshall has pioneered major advances in the new art and science of digital imaging. He began his career as a BBC cameraman where he created the now ubiquitous 'lightweight television camera' mounted on a long boom arm. He was director of photography on hundreds of early music videos for artists including Pail McCartney, Kate Bush, David Bowie and Elton John and has worked extensively in television including on MTV when the music channel came to Europe. He is currently CEO of the EPI-centre an electronic photo imaging company which he founded in 1993. John has served as President of the British Institute of Professional Photography and is currently Co-Vice Chairman of the Guild of Television Cameramen.
Congratulations to John – we're very proud of you!

See more about John's work at: