GTC Vice President to present valuable archive tapes at Kaleidoscope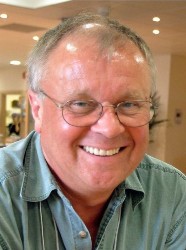 GTC Vice President John Henshall will be at the Classic Television Organisation Kaleidoscope's summer event, entitled Lift Off at The Talbot!, this coming Saturday.
The event will take place from 12:00 - 7:00 pm in the Function Suite, The Talbot Hotel, High Street, Stourbridge.
As part of a packed music-themed day, John will be talking about his career and also present some of his rare music video tapes that Kaleidoscope have recently been digitising. John's connection with Kaleidoscope has really taken off since his remarkable revelation in December of the only existing tape of David Bowie's performance of Jean Genie on Top of the Pops.
The event will feature an amazing line-up of archive footage of classic performances on shows like Top of the Pops, Russell Harty plus Pop, Look! Hear! and Rock Around the Docks, featuring everyone from David Bowie and The Who to Oscar Peterson and Johnnie Ray.
Admission is free and It would be great to see some GTC members there.
The whole day looks really interesting and John's slots are:
2:00 pm Guest Panel - John Henshall: Life Through a Lens. The pioneering cameraman and director of photography who invented many of the leading optical effects used in musical peformances on television talks about his career and extensive personal collection of classic appearances.
3:30 pm The John Henshall Years - volume one - John's collection is packed with rare pop material, missing programmes and fascinating television trivia. John didn't just collect music, he also kept variety shows, drama, adverts and continuity. This compilation contains the first dip into John's personal vault.
4:30 pm Galaxy. An untransmitted music show made by Mike Mansfield with John Henshall as Director of Photography, starring Kenny Everett as the DJ and appearances by Average White Band, E.L.O., Hot Chocolate, Catherine Howe, Grace Jones, Peter Straker and Sweet plus ABBA and David Bowie on video (TX: 19/08/1980).
See full details at: http://www.kaleidoscope.org.uk/next-kaleidoscope-event.html
Kaleidoscope is a not-for-profit organisation which rescues vintage television footage. Among others, it digitised Bob Monkhouse's incredible collection of videos, the third largest in the world.
Venue: The Talbot Hotel, High Street, Stourbridge,West Midlands DY8 1DW
Time and Date: 12.00–7.00, Saturday 9 June
See more about Kaleidoscope at: www.kaleidoscope.org.uk