GTC welcomes back Ianiro as sponsors
The GTC is delighted that, after a short break, Ianiro UK are back as sponsors of the Guild of Television Cameramen. Redditch-based Ianiro UK is a partly owned subsidiary of the Rome Factory, and distributes lighting and lighting accessories, camera support equipment, dollies, tracks, cranes and jib arms.
Ianiro was originally started in 1948 as a family firm in Italy and quickly became a renowned manufacturer of lighting products for Rome's Cinecittà studios. The Ianiro family took the initiative to design its own lighting and grip products according to precise local demand for lightweight and compact lighting fixtures. The Sixties saw the spreading outwards of Cinecittà's productions from Rome to a host of other destinations and with them went Ianiro products.
The company successfully matched the sale and rental of lighting equipment and accessories, at the same time developing the production of portable fixtures. Especially in the 1980s this range was expanded and distributed into the new growing sectors of advertising photography, wedding video and cine-video reportage.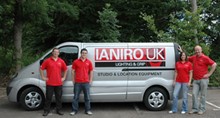 The introduction in 2007 of the first IANIRO LED portable fixtures marked the first step of a long journey towards new LED systems for television studios and entertainment, keeping pace with technical improvements in LED fixtures.