GTC welcomes Blackmagic Design as sponsors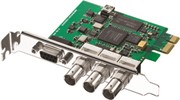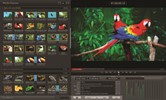 Blackmagic Design creates high quality video editing products for the feature film, post production and television broadcast industries. With a range of products including colour correctors, video converters, video monitoring, routers, live production switchers, disk recorders, waveform monitors and film restoration software, Blackmagic Design continues to develop ground-breaking innovations for stereoscopic 3D and 4K workflows.
The launch of Blackmagic Design's DeckLink capture cards in November 2002 made the ability to work in true 10-bit uncompressed video on a Mac OS X™ system an affordable reality.The DeckLink card has become a market-leading product due to Blackmagic Design's philosophy of delivering 'whatever it takes to give creative editors and designers the very best quality tools'.
The company's DaVinci colour correction products are Emmy™ award-winning. With DaVinci Resolve software available across multiple platforms for under $1000 and DaVinci Lite available as a free download from the Blackmagic Design website, implementing colour correction into a workflow is now a possibility for anyone and everyone.
DaVinci Resolve has been used to grade many feature films, television commercials, documentaries, episodic television production and music videos, including recent box-office hits Mission Impossible: Ghost Protocol, The Woman in Black, Man on a Ledge, and Underworld Awakening.
Last year at NAB 2011, Blackmagic Design unveiled its new range of ATEM production switchers with powerful features, smaller size, lower cost and the ability for users to customise a solution for their needs and budget, starting as low as $2495. The ATEM production switchers have been used in various high-profile AV installations throughout Europe – including the MTV EMAs, Dublin's Oxegen Music Festival and London Fashion Week.
"Blackmagic Design is dedicated to allowing the highest quality video products to be affordable to everyone, so that the post production and television industry can become a truly creative industry," said Grant Petty, CEO of Blackmagic Design.
Blackmagic Design's founders have a long history in post-production editing and engineering. With extensive experiences in high-end telecine, film and post, harnessed with a real passion for perfection, they have set out to change the industry forever.
With offices across the globe, including the United States, United Kingdom, Japan, Singapore and Australia, Blackmagic Design products are available worldwide. For more information visit www.blackmagic-design.com