GTC welcomes Holdan as a sponsor company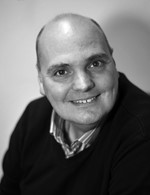 The GTC is delighted that camera equpment distributor Holdan has come on board as a sponsor company.
Allan Leonhardson of Holdan (see left) says:"We're delighted to join the prestigious list of GTC sponsors. But we're determined not to sit on the sidelines – we hope to be active members and to bring as much value as we can to this valuable organisation.
Holdan is a distributor for brands such as Panasonic, Blackmagic, Teradek, Datavideo and Vitec Multimedia. Working in the UK and Europe, and with multiple brands, our team has incredibly broad experience of the professional, broadcast and film sectors.
We work with qualified resellers to advise and inform them on each product we stock. Our role is also to present the latest technology to end users to educate them in the adoption and use of new equipment and cutting-edge workflows. Holdan also works side by side with resellers and integrators on studio and installation projects, meaning that customers benefit from the combined experience of both teams. We look forward to the opportunity to share these insights with GTC members and to tell you what the manual often misses!
Because we focus exclusively on a number of brands, we get to know kit exceptionally well. However, we want to be sure we understand how the technology best fits into your workflows. We are determined to learn from GTC members how professional camera operators use the broadcast equipment we supply and what you really want from the manufacturers we serve."