GTC welcomes new sponsor Vocas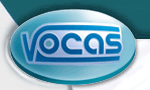 The GTC is pleased to welcome Vocas Systems BV as new sponsors. The Netherlands-based company specialises in designing and developing camera accessories for video and film camera operators, in particular matte boxes, follow focus units and lens controllers.
The range of Vocas products is distributed in the UK by Pyser-SGI. For more information about Vocas, view their website www.vocas.com.