GTC Welfare Officer visits ARRI Media and Pinewood Studios with Second Light
One of the charities supported and mentored by the GTC, Second Light, recently set upa visit to ARRI Media's HQ in Uxbridge and Pinewood Studios (both GTC sponsor companies) for members of their Tech Lab group (www.firstlightonline.co.uk/talent/second-light-tech-lab-posts). GTC Welfare Officer Brian Rose was pleased to accompany First Light's Yen Yau and the rest of the group on the trip and here Brian reports back on a fascinating day.
First, we spent some time at ARRI Media in Uxbridge, looking at how a large and successful rental company operates, as well as 'playing' with the ALEXA and 35mm film cameras.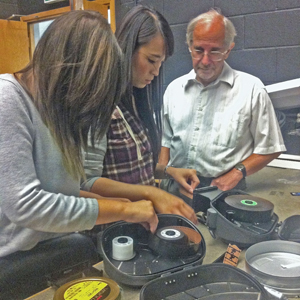 Despite news of its demise, there are still feature films being made on 35mm, and the group were able to practise loading magazines, etc.
Then it was on to Pinewood and Technicolor Labs. Again, 35mm is very much alive, although the labs also handle a lot of material digitally these days. One thing we were able to learn about (and it even surprised me!) was just how important camera report sheets are. These reports, which list the stock used; print and N/G takes; grading instructions and so on, are vital throughout the entire post-production process, especially when using digital post as they follow the job all the way through. I was even more surprised to see that they are still hand-written and are basically the same as in my days as a clapper loader (over 40 years ago!)
Pinewood's Anne Runeckles spent the day with us, and we went on to watch a film about the Pinewood Group in the newly refurbished Theatre 7 and take a look at the state-of-the-art sound post-production suite. It was interesting to see (or rather hear) how sound can be finessed and brought together to give audiences that unique cinematic experience. It was also interesting that separate mixes for cinema and TV have to be made to suit the two media.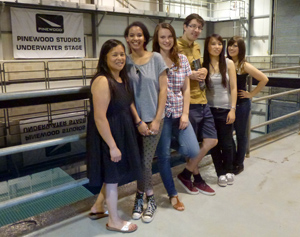 Finally, a visit to the back lot, the huge open-air tank and even larger green screen(the biggest in Europe) ending up in the underwater studio. But absolutely no pictures of the live sets of course!
Perhaps it should come as no surprise that Anne and the Pinewood staff – as well as ARRI Media – put so much time and effort into the visit. The working chairman of First Light is none other than Bond producer Barbara Broccoli. These young, intelligent and ambitious people are our future, whether you call it film or television. I felt privileged to spend time with and mentor the group.

Second Light is part of First Light a project that helps young people from all backgrounds to develop their skills, talent, creativity, confidence and entrepreneurial capabilities.It provides opportunities for young people to work with industry professionals on high quality, youth-led digital media projects. See more about First Light at: www.firstlightonline.co.uk/about-us/
See more about other charities the GTC supports at:
www.gtc.org.uk/about-the-gtc/the-gtc-supports-.aspx