GTC's John Henshall draws celebrity crowd at NFT1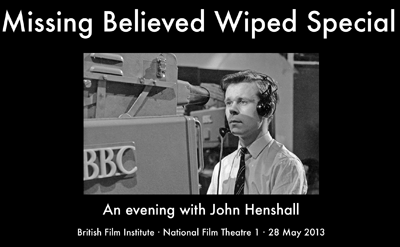 In a thoroughly entertaining evening, John Henshall, the GTC's Vice President, ensured the British Film Institute (BFI) celebrated the 20 year anniversary of its 'Missing Believed Wiped' programme at the National Film Theatre in style. 'An Evening with John Henshall' comprised an extraordinary compilation of 'presumed lost' archive television footage introduced with great panache and humour by this founder member of the GTC.
Iconic material of (among others) David Bowie, Paul McCartney, Kate Bush, Blondie and David Essex, not to mention Peter Cook and Dudley Moore, Spitting Image, That Was The Week That Was... was shown to a packed auditorium, revealing not only a fascinating slice of television history from the last 50 years but also the long and influential career of a pioneering photographer as well as distinguished cameraman and lighting director.
For two hours, with barely a pause for breath, John eloquently regaled us with many poignant and nostalgic, as well as very funny stories behind the remarkable set of clips shown - this just a tiny part of the huge archive he has amassed over the past half century since joining the BBC as a trainee in 1961.
One of the earliest broadcasts he worked on, at just 19, was a live show featuring Bob Hope and Bing Crosby and John recalled how Hope and Crosby sat chatting to the crew after the filming. Soon after he was working on Jazz 625, offering shots of the legendary Count Basie. An extract from John's diary from the time showed that any week would typically include several such programmes, all part of the job.
Missing Believed Wiped
The BFI has for 20 years been running its 'Missing Believed Wiped' programme to reveal items of 'lost' footage in both film and television. The Interviewer for the evening on stage with John, was the BFI's Bill Fiddy, who explained to the captivated audience, which incuded many famous faces, how John had casually mentioned on a BBC Radio 2 show with Johnnie Walker in 2011 that he had a copy of Davie Bowie performing 'The Jean Genie' live on Top of the Pops on 3 January 1973. Bowie was 25 and at the height of his fame - but the BBC had wiped the tapes. John, however, had a pristine two-inch broadcast videotape sitting in Big Yellow Storage in Swindon.
Since then there has been something of a frenzy around what else might be revealed in John's remarkable archive. Shortly after the bombshell on the Johnnie Walker show, John was interviewed by BBC Arts Editor Will Gompertz and, as Will said; "So John, I believe you have another 100 recordings (aside from Jean Genie)." Apparently Gompertz was completely taken aback when John replied that he actually had more like 600 recordings.All are now being restored and digitised by Kaleidoscope, the classic television organisation. John jokes that his family had always said that after he is gone they will just order a big skip for all stuff he has hoarded - they'll probably be rethinking that now!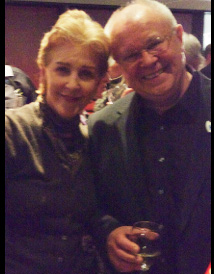 A tiny selection from the tapes was shown, including disarmingly natural and poignant footage of Paul McCartney and Wings (including his late wife Linda) singing 'I've Had Enough' on the Isle of Kintyre; hilarious footage of Peter Cook and Dudley Moore corpsing through a sketch in an art gallery; and a powerful studio drama sequence from the 1975 BBC series Girls of Slender Means. This series clearly had quite an effect on all involved and it was lovely to see not only its celebrated director Moira Armstrong in the audience but also Patricia Hodge, Jack Shepherd and other cast members. Another famous name who remembers that series fondly is Miriam Margolyes, who couldn't be there on the night but had filmed a lovely tribute that was played in.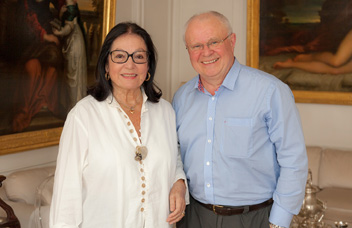 Among the unexpected gems that the recent interest in the stash of tapes has revealed was a lovely stripped-back recording of Sonny and Cher singing a duet. This had been prised out of a rusty old can and brilliantly restored and resynched by the team at Kaleidoscope. And another surprising find was a wonderful sound tape of a forgotten song by Nana Mouskouri (John was multiskilling on sound that day!) John has kept in touch with Nana and had recently travelled to Paris to catch up with her. She had also filmed a warm and affectionate message.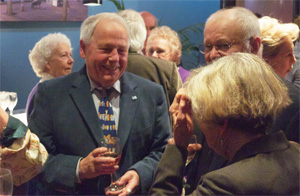 The GTC was well represented on the night with President Dick Hibberd having made the journey up from Farnham, plus former Chairman Brian Rose, GTC Council Member John Tarby and Zerb Editor Alison Chapman. In a nice touch, at the end of the evening, in order to redress the lack of credits for cameramen by the BBC that John and other luminaries from the GTC long fought battles over, John assiduously credited all that had helped him put his presentation together and also the cameramen involved in the footage shown!
There is talk that John's outing may be heading to BAFTA or other venues around the country - so watch this space for news. If John does do the talk again and you get the chance to go, then do take it as this evening was a real treat.
---
Here is a selection of some of the comments John received after the evening:
... many congratulations on an absolutely amazing evening. The two hours flew... the clips were astonishing, and a trip down memory lane. You are such an accomplished showman – sometimes I think you were a bit wasted behind the camera!
Amanda Nevill (Director and CEO, The British Film Institute)
You do our profession proud and are a true example of the passion, enthusiasm and dedication that exist in the very best. It was a riveting evening and I can only say - more please! With the scent of an audience now in your nostrils, have faith in yourself and keep going! Love and huge thanks for your generosity.
Patricia Hodge (Actress)
"An excellent evening out at the BFI, courtesy of John Henshall and "An Audience with...". There really ought to be more chances for old material to be aired along with a raconteur as good as John. Afterwards we all went to hospitality, just like the old days."
Bernard Newnham (Webmaster of BBC Tech Ops)
Many, many thanks for a terrific evening and what a good full house you had which you entertained so well, full of interesting information. How right you were to say how rewarding it was to work in an organisation such as the BBC from the sixties through to the seventies and the middle eighties. Sadly I don't think the BBC will ever be the same again, just a fond memory for people like us. The "Girls" and I are so much indebted to you for all your hard work and wonderful enthusiasm.
Moira Armstrong (Director of many television dramas)
A thoroughly enjoyable evening at the NFT ... It's good to see your vitality, humour and meticulousness are undiminished by the years. A real trip down memory lane for your audience - only Eamonn Andrews was missing from the crowd.!! Congratulations and thanks for all the energy you put into the presentation which went down brilliantly!
John Beecroft (York University staff)
CONGRATULATIONS John - You were brilliant and all my guests absolutely loved it esp Angela OBE – best film continuity girl ever – was so impressed ... Now she is trying to get you to do similar talk at BAFTA. She thinks you should have an an agent.
Magdalen Danvers/Gaffney (Makeup Designer)
Brilliantly done! It was interesting to see some of the many things you have been up to in the post BBC years too. And only you would have thought of running film through a projector to use as a makeshift film camera. Impossible! But not so it seems!
Peter Fox (Cameraman)
John - you were great. Relaxed and clear, and the evening was so interesting. We know that "The Girls of Slender Means" is so good, but it was also great to find that our memories of That Was The Week That Was and Spitting Image proved them too to be as sharp and as witty as we remembered them.
Marilyn Finlay (Actress)
Excellent show last night, never realised I had worked alongside a Meccano Magazine prizewinner!
Dave Hunter (Cameraman)
Greatly enjoyed your chat at the BFI last night.Took me back many years to the Marconi MKIII cameras, the EMI 203 and 2001, and others. Great quality pictures and sound.
Michael Cox (former Chairman, International Broadcasting Convention)

That was an amazing evening! Wow, what wonderful bits of old footage, so nostalgic. Makes you realise how much TV has changed over the years. I had no idea that you had done so many pop videos either! ... congratulations John, brilliant stuff, very impressive and a huge thank you.
Jane Cussons (Actress)
... You were very funny & seeing all the bits of film was wonderful. It was a time I remember well. I was in The Likely Lads & Softly Softly as a doctor who eventually marries Frank Windsor's character. I also played Esmeralda in the Hunchback of Notre Dame so it was very exciting to see that short bit of film! I loved the way you retrieved the offcuts of film from the bin and your inventions of those cameras that did such clever things. All in all a great experience to have seen all those old bits saved by you. I hope the BFI invites you back again soon. I was also quite happy to see the Margaret Thatcher bit!
Gay Hamilton (Actress)
Dear archivist/hoarder, skilled cameraman & special effects lens maker and now presenter! Many congratulations from me too - it was a splendid evening. John, thank you so much - and for your kindness & generosity - greatly appreciated.
Rosalind Shanks (Actress)
Thank you so much for such a fantastic evening.Your talk was brilliant and the footage you have archived and saved thank goodness over the years is fascinating and moving. I particularly enjoyed the Bowie clip as I am his number one fan:-) and I remember so well that beautiful Kate Bush video, it is one of my favourites of hers and the fact that you were involved in the making of that, well, it was wonderful to see. As an actress too I enjoyed the memories of [The Girls of Slender Means], I enjoyed seeing how the technicians were pretty much organically involved in the process of telling the story and how there was the proper amount of time to rehearse and film. I was more moved by that incredible scene you showed, far more than anything that is on today. Today dramas are filmed and rehearsed so fast that there is no room for real creativity or magic or for the audience to be moved and drawn in. Watching that ... was like being in the theatre ... Many thanks again and do please arrange another talk there as it sounds like you have masses more to tell and show and I no doubt speak for loads of people when I say I am hungry for more!
Naomi Sachs (Actress)