Ikegami sees growing Interest in 4K UHD and 8K SHV at NAB 2015
GTC sponsors Ikegami have reported rapidly growing interest in ultra-high-definition technology at the recent 2015 NAB Show in Las Vegas.
"Increasing affordability of 4K UHD consumer television displays is encouraging broadcasters in practically every country to adopt this resolution for high-budget studio productions," comments Mark Capstick, General Manager, Ikegami Electronics UK. "This helps to ensure that new programmes and series retain their value well into the future. Major television productions have a project lead time of anything up to three years so there is good reason to plan ahead for advances in transmission standards. It was evident at NAB 2015 that several European broadcasters have already committed to the early introduction of 4K UHD channels."
4K UHD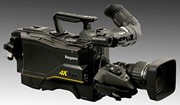 The Ikegami 4K Technology Exhibit this year included a new 4K UHD camera with three 8 megapixel 2/3-inch CMOS sensors (R,G and B) and traditional prism optics. This configuration delivers the long depth-of-field capability which is particularly important when televising outdoor events such as sports. The camera head has a low-profile form factor and employs full end-to-end digital processing. It connects to a newly designed 4K UHD base station. The full specification will be announced in due course. As part of the 4K exhibit, Ikegami exhibited Hibino Corporation's 4K 293-inch 4K UHD LED screen.
8K SHV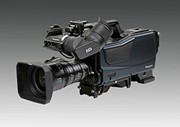 Also making its first appearance was the Ikegami SHK-810 8K SHV Super Hi-Vision camera. Michael Lätzsch, Broadcast & Professional Video Division Manager at Ikegami Electronics Europe explains: "Preparations are currently under way in Japan to introduce a Super Hi-Vision television service in time for the 2020 Summer Olympics in Tokyo. This will have a horizontal screen resolution of nearly 8K and will make television viewing a highly immersive experience, potentially comparable with a front seat at a live stage event or in a cinema.
Designed both for outdoor and studio production, the SHK-810 camera head is compact (168 x 228 x 395.3 mm WHD) and weighs less than 9 kg. It has the same control layout and ergonomic style as existing Ikegami broadcast camera systems. The SHK-810 is Ikegami's fourth generation 8K SHV camera. One tenth the size of the first generation model, it has significantly improved operability.
Other new HD cameras from Ikegami
Also introduced by Ikegami at NAB 2015 were two new high-definition cameras, the HC-HD300 and HDK-65C, both of which are now in production.

The HC-HD300 is a 1/3-inch 3-CMOS docking-style camera that represents Ikegami's first affordable HD studio camera system. Ready for studio or field, it features a newly-developed 1/3-inch 3-CMOS optical block design, in keeping with the outstanding imagery and rugged construction of the broadcast-ready Unicam HD line.

The HDK-65C is a 2/3-inch 3-CMOS portable camera. The latest addition to Ikegami's Unicam HD line, it is equipped with multi-format 2.5 million pixel 2/3 inch CMOS sensors. The HDK-65C is available as a single-format system and is software-upgradeable to additional HD formats. Providing end-to-end digital processing, it features a low-profile docking camera head for fibre, triax, or wireless applications.