Is it a bird? Is it a plane? It's Cameraman!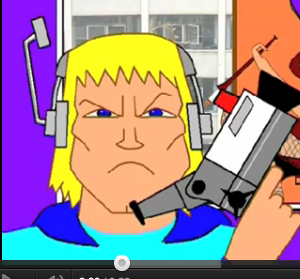 Spotted on You Tube, this brilliant cartoon uploaded by the multi-talented former BBC cameraman Roger Bunce.
Not only does it quite correctly (in our totally unbiassed opinion) bestow the status of superman on all cameramen... hmmm... it is also brim full of fantastic detail, mostly relating to the soon to be extinct Television Centre. Plus, it can even claim to be quite educational for young cameramen (see the shot card instructions, etc etc).
Be warned, you'll need to watch it a couple of times to catch all the jokes... oh, and it's a tincy bit sexist... and there's a bit of bad language in places... but hey, it's definitely worth it for the many, many laughs!
The plot
Cameraman, the 1970s Super-Hero of Television Centre, accompanied by his faithful side-kick Tracker, and his admirers Autocue Girl and Make-Up Girl, battle against a range of studio Super-Villains, including: Allocations, Link Man, Lighting Man, Sparx, Racks Operator, Sound Man, the Scene Crew and Arch-Villain Director, with his brutish henchman Vision Mixer.
Dedicated to BBC Television Centre and the Golden Age of Television.