Is your programme a load of old hot air?
Introducing Albert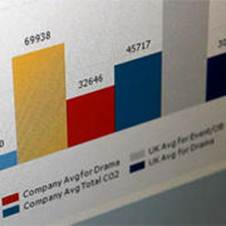 Richard Smith, the BBC's Project Manager for
Sustainable Productions introduces a new carbon calculator, Albert, an online tool that works out how much making a production will affect the environment.
Albert calculates the total amount of greenhouse gases emitted into the atmosphere as a direct result of making any particular programme.
After the user has answered a series of questions relating to production activities (such as studio usage and time spent in edit suites), Albert produces a series of charts showing the carbon impact of the work. The user is given the total CO2 emitted during the course of production, the amount of CO2 emitted per £100k of budget and critically, CO2 per production hour.
What is the point of Albert?
Albert has two major aims: to help programme teams reduce the amount of CO2 produced during the making of their programmes, and to raise awareness of the environmental impact of programme-making. Albert's designers hope that the tool will act as a focal point for the consideration of sustainability issues in the television industry for both colleagues and audiences.
When will Albert be available?
Albert will be fully usable by October 2011. There are a few tweaks being made at the moment but if you're interested in signing up, email albert@bafta.org to be informed of future progress.
When it's launched in October, Albert will be completely free although the long-term funding model hasn't been finalised yet, so there's a possibility this might change after the first year.
Who is Albert designed for?
Albert is designed to cater for any group that creates television programmes, from national broadcasters to tiny indies. Due to the type of data required by Albert, it is likely that production managers and coordinators will be best equipped to use the tool but it may be of interest to anyone making production decisions.