Journalists protest against imprisonment of Al Jazeera crew in Egypt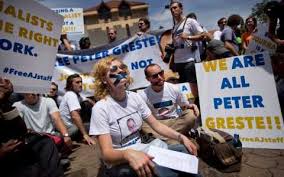 In a well-supported solidarity day journalists around the world today united and protested in the strongest terms to the Egyptian Government and Military Authorities against the imprisonment of the Al Jazeera television news crew in Tora prison under trumped-up charges which they claim are "damaging to national security".
Australian Peter Greste and Baher Mohamed, Mohamed Fahmy and Abdullah Elshamy (who has been imprisoned for over six months along with 20 other journalists) have been unlawfully detained by the Egyptian authorities for carrying out their lawful and vital work as journalists.
Our television news crews of correspondents, cameramen and producers – together with our colleagues on newspapers – carry out their lawful work, often in very difficult and dangerous circumstances to bring truth to the world.
Along with our journalist colleagues who joined the protest today, we call for these journalists to be released forthwith by the government and military authorities to demonstrate to the world that the new emerging Egypt honours freedom of speech in a democratic manner.
Keith Massey
Chair
Guild of Television Cameramen