Red card offence? Cameramen under attack on the football pitch
We're all aware of the risks cameramen take when they undertake certain assignments and contracts - working in war zones and covering riots, climatic disasters and so on - but time was that turning up to cover a football match on a Saturday afternoon wouldn't have been considered particularly high risk.
Well, think again. In two recent high profile cases, both as it happens involving Manchester United players, cameramen have through no fault of their own found themselves centre stage in well reported incidents where players have in different ways abused professionals going about the job of covering football action and immediate post-match incidents.
When Wayne Rooney infamously chose to celebrate a long-awaited hat trick by swearing down the lens of the touchline camera tasked with picking up the goal celebration at West Ham earlier this month, the club chose to base their case against the two-match ban imposed on the player on the fact that the cameraman had come too close, meaning that the microphone picked up swearing that would otherwise have been mute. Hmmm, if that were the case, let's hope there weren't any lipreaders watching the game. Unfortunately for United, it seems the FA weren't convinced and the two-match ban was upheld.
In that incident, some controversy that the cameraman could probably have done without surrounded him for a while, but no real damage resulted as far as we are aware. The next incident - not completely unrelated as we will see - was potentially much more serious and could well have resulted in physical injury.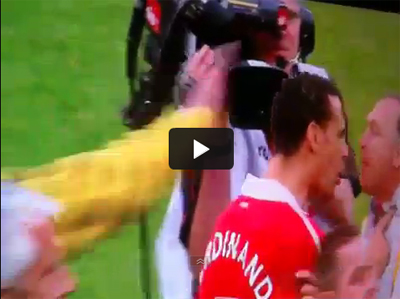 In a post-match argument between Rio Ferdinand of Manchester United and David Platt of Manchester City, during which the United defender squared up to the City coach after this weekend's FA Cup semi-final at Wembley, a camera operator working for the facilities company covering the game and quite legitimately framing up a shot of the incident, is shoved away by goalkeeper Van der Sar, resulting in the camera being manhandled off his shoulder. Luckily no injury resulted but surely this amounts to an assault on a professional merely doing his job? If you haven't seen the incident - and it's not easy to as the FA keep removing it from YouTube - you can watch it at:
http://www.balls.ie/2011/04/16/watch-van-der-sar-shove-a-cameraman-to-protect-rio/
If Van de Sar does choose to apologise to the cameraman in question, presumably it will go something along the lines of 'emotions were running high' which seems to have become the stock line, featuring in both Rooney's public apology for his f-words and Ferdinand's public apology on Twitter for his lack of control after the semi-final.
The interesting connection is that presumably Van de Sar's desire to get the camera out of the way goes back to that 'if the camera hadn't been so near, you wouldn't have been able to hear the swear words' ... which led to the two-match ban ... which meant that Wayne Rooney wasn't able to play in the semi-final ... which United then lost to arch rivals City. Emotions were probably very definitely running high! Presumably the last thing Manchester United want is for Ferdinand to collect a ban just as they strive to secure the two trophies they still have a chance of lifting after Saturday's defeat. So best thing might have seemed 'in the heat of the moment' to take out the mic that might wreak further damage.
OK, so things happen in the heat of the moment - but is an apology enough? Surely, cameramen and camerawoman turning up to provide pictures of a high profile football match have the right to be safe while doing their job - just as all footballers are protected by the laws of the game from other players willfully causing injury to them by malicious or even clumsy tackles - and certainly from any kind of off-the-ball violence which will automatically result in a red card and varying degrees of ban.