Anton/Bauer expanded compact battery range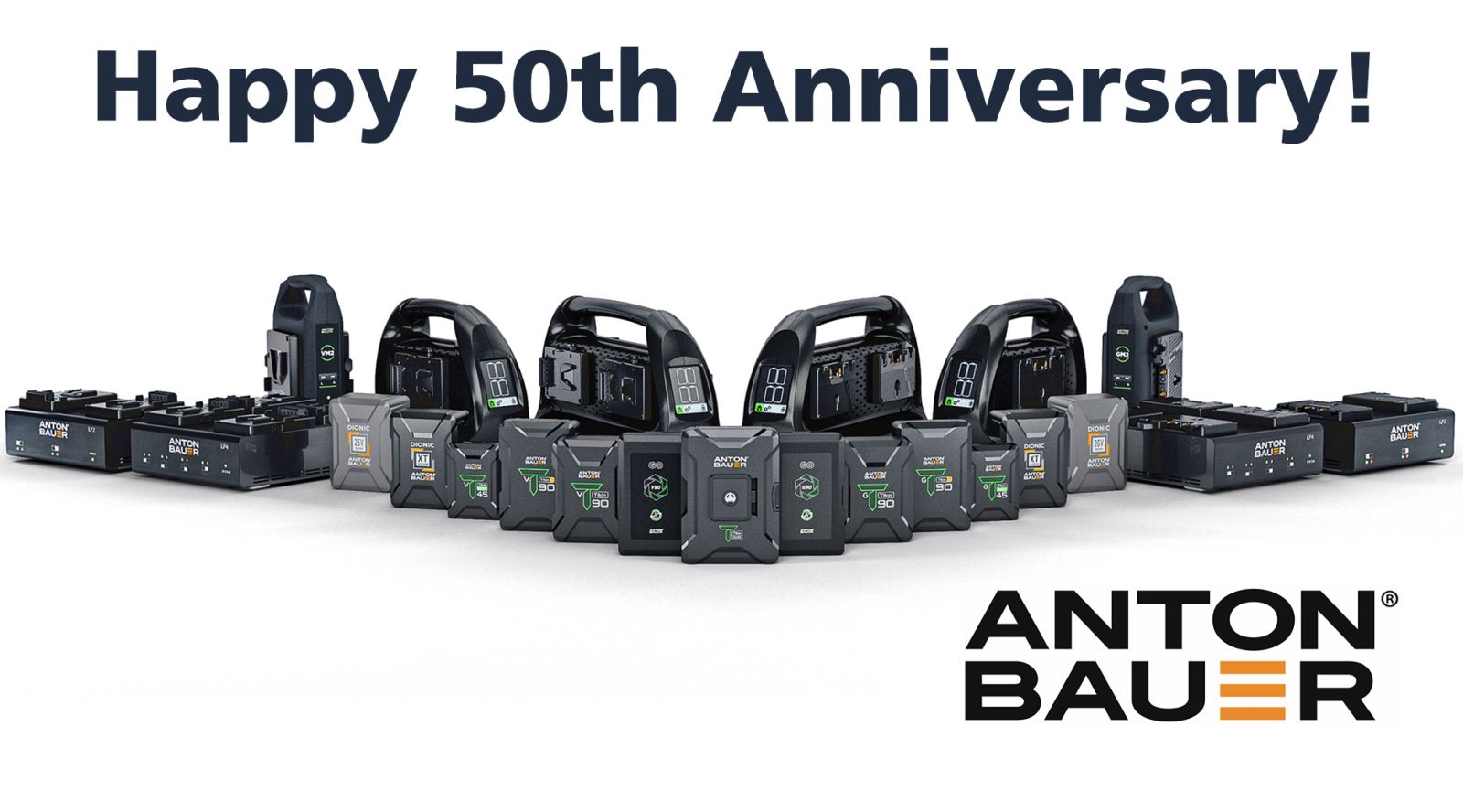 New range introduces dedicated mobile power solutions to run cameras, monitors, lights and more.
GTC sponsor Anton/Bauer, a leading manufacturer of mobile power solutions for broadcast and cinematic equipment, today announced the largest ever expansion to its range of powerful compact batteries with the introduction of Titon SL, Titon Micro, Titon Base and GO 90. The extended range adds to Anton/Bauer's consistent and reliable power solutions to include smaller and slimmer batteries ideal for monitors, follow focus and on-camera lighting as well as pure power batteries designed for high-performance cine lights and specialist cameras.
"Anton/Bauer batteries have been the first-choice power option for camera operators in broadcast and cinematography since ABC TV cameraman, Anton Wilson and electronic engineer, George Bauer joined forces in 1970. Together they developed the world's first camera mounted battery system – bringing a world of freedom and power to camera operators everywhere" says Chris Gaughan, Anton/Bauer product manager, Vitec Production Solutions. "Now, as we celebrate our half-century, we are announcing additions to our range that bring Anton/Bauer's premium mobile power to almost every aspect of your set with solutions designed for cameras that are both smaller and more powerful as well as monitors, on camera lighting, large panel lighting and much more. A new range of more than 50 accessories also ensures that our V-Mount and Gold Mount® batteries are compatible with more devices than ever."
To help camera operators, cinematographers and pro videographers find the best power solution for their equipment Anton/Bauer has also launched a web-based 'kit your camera' configurator that determines the power requirements of cameras and accessories to recommend the most appropriate battery.
The expanded Anton/Bauer range:
DIONIC 26V – available in 99Wh or 250Wh and featuring the new Gold Mount plus safety mount, the DIONIC 26V battery system is a dedicated solution designed to power the high-performance production equipment needed to meet the demanding cinematography standards of today. A pure 26V battery with continuous 12A current, DIONIC 26V delivers over 300W of consistent power to run large LED panels for longer, producing hours of full intensity creative lighting or drive power-hungry cine cameras or high-speed cine cameras.
DIONIC XT – available in 99Wh or 156Wh and in V-Mount or Gold Mount options, DIONIC XT is the cinematography gold standard for high-performance, consistently reliable 14.4V mobile power. Delivering 12 amps of constant current to power cameras and accessories simultaneously, and with sophisticated charging technology providing the same consistent level of power throughout its life, DIONIC XT is the perfect choice where dependable power is mission critical.
Cine VCLX – freestanding feature-length production power. CINE VCLX Battery is a 14.4V and 28V 630Wh NiMH battery that provides dual simultaneous outputs ideal for high-performance cinematography equipment. With power output via two 4-pin XLR connectors for 14.4V and one 3-pin XLR connector for 28V, VCLX delivers all-day power or a trusted backup for hot swapping camera power on set.
Titon – available in 92Wh, 156Wh or 238Wh and in V-Mount or Gold Mount options, Anton/Bauer's premium Titon batteries are the rugged and reliable choice for ENG crews, built to withstand the rigours of broadcast use. Titon delivers 10A of consistently dependable 14.4V power and multiple levels of protection for broadcast critical equipment.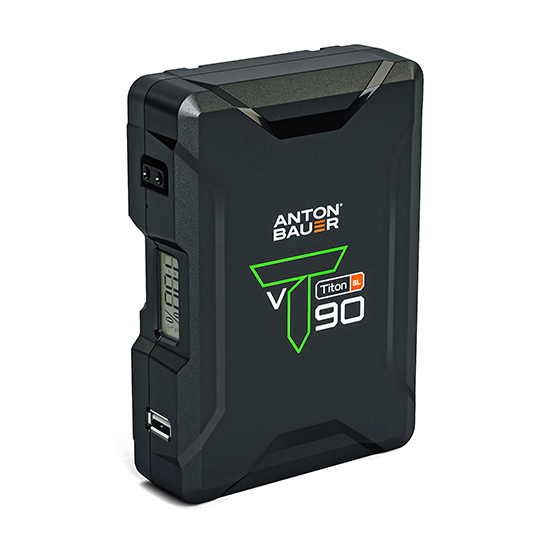 Titon SL – available in 95Wh or 143Wh and in V-Mount or Gold Mount options, the slimline profile and light weight of Titon SL makes it the essential choice for fast-paced content creators where agility is critical and space is premium. The 14.4V Titon SL provides the slimmest, lightest and most powerful 10A solution to run monitors and more, seamlessly integrating into equipment without extra weight or bulk allowing ultimate agility.
Titon Micro – available in 47Wh, 94Wh or 140Wh and in V-Mount or Gold Mount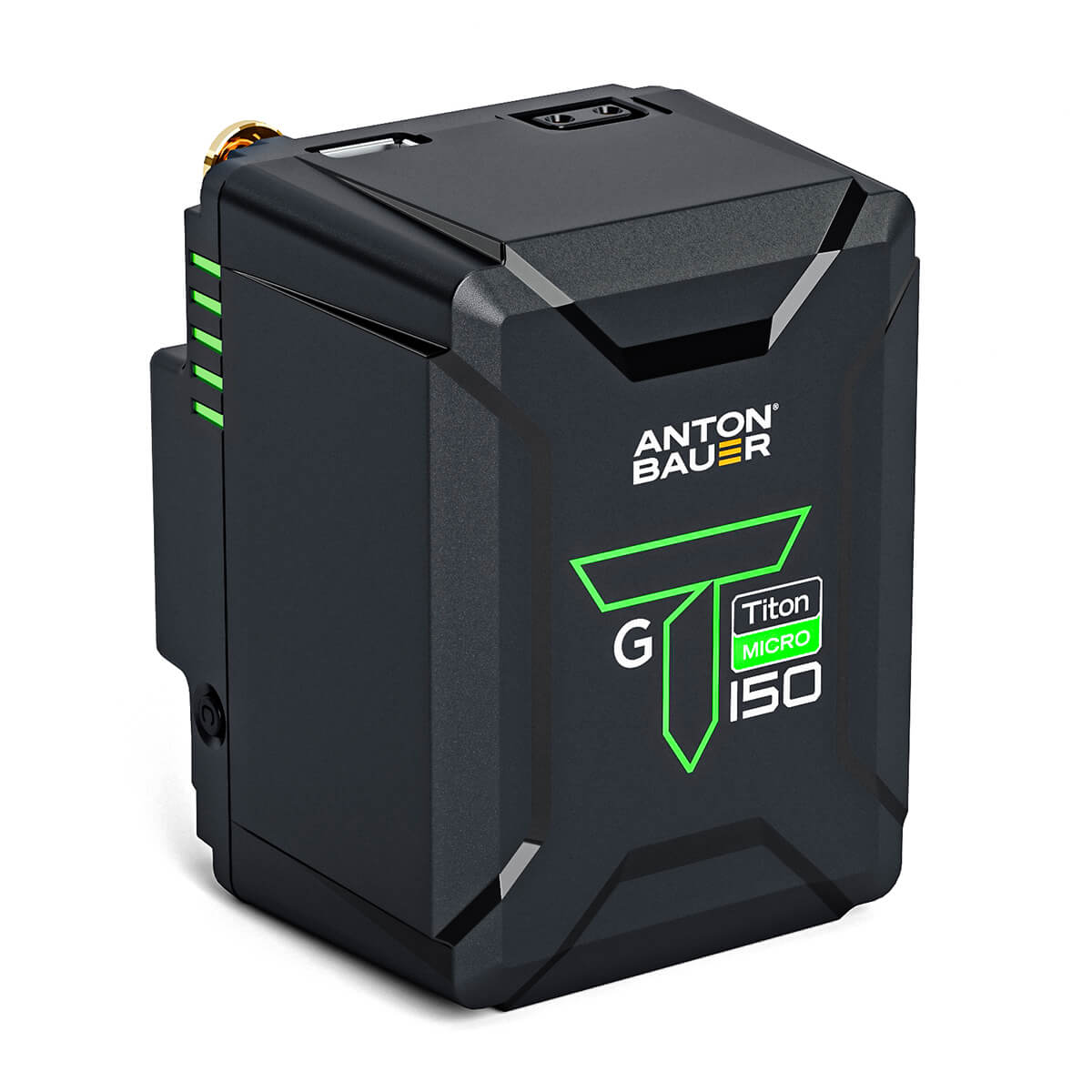 options, Titon Micro delivers the extended power needed to run cine cameras and mirrorless systems for hours in the smallest ever 14.4V battery from Anton/Bauer. When size and weight are critical, but power is paramount, Titon Micro batteries deliver a consistently reliable continuous 10A current, (8A Titon Micro 45), to run cameras for hours. An optional dual micro battery mounting plate allows twice the power in half the size or a regular battery.
Titon Base – the slimmer, lighter, more powerful power base for compact cin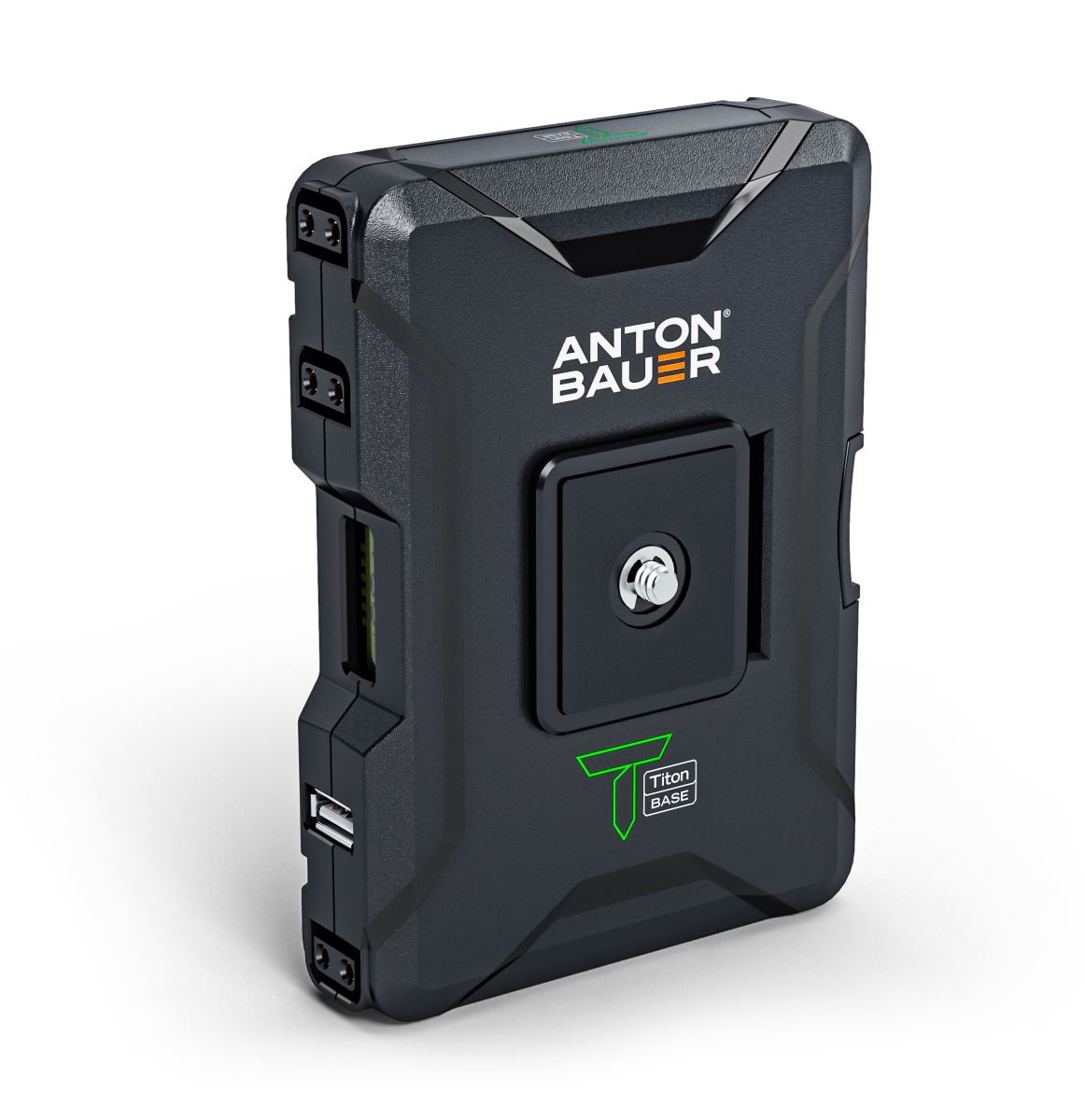 e cameras. The 68Wh Titon Base is a portable power hub designed to deliver hours more runtime than the consumer batteries supplied with cameras in a lightweight, travel-friendly form. Base mounts under the camera to create a perfectly balanced base safely away from camera controls. With a quick-release plate and integrated ¼"-20 mounts, Titon Base can be quickly released from a camera and mounted to a tripod or camera support with a simple click for fast-moving hand-held action.
GO 90 – the 98Wh GO 90 is Anton/Bauer's lightweight, low-cost V-Mount or Gold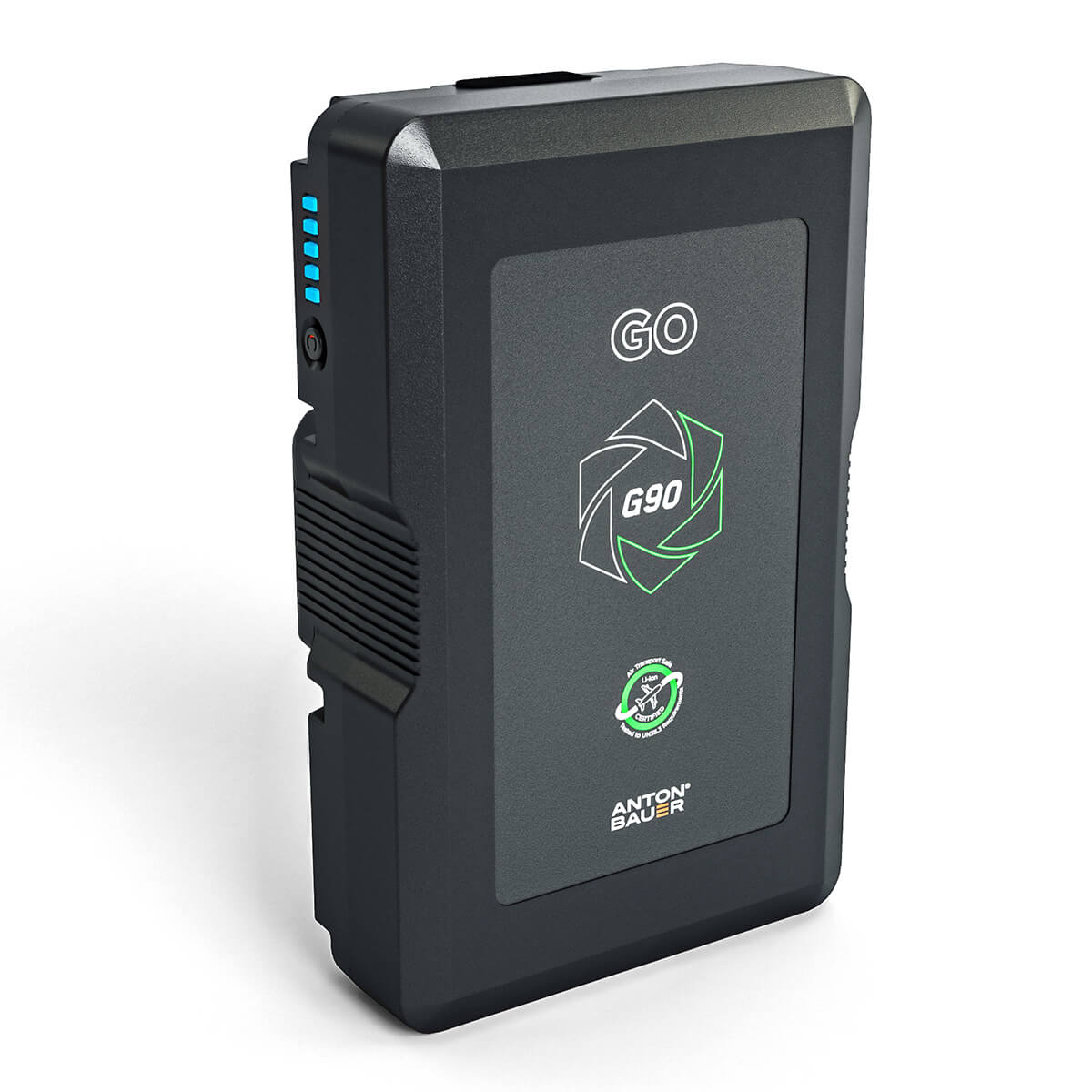 Mount 14.4V battery for pro photographers and videographers looking for a simple plug and play power solution. When budgets are tight but compromising on quality or reliability is not an option, the super-slim GO 90 is the perfect 8A solution for powering cameras, on-camera lights or monitors without adding excess extra weight to equipment.
"Anton/Bauer has consistently pioneered new mobile power solutions for 50 years, with industry-first innovations including: the first flexible mounting system, the P-Tap®, and the first interactive viewfinder fuel gauges," said Gaughan, "Our new expanded range crowns our golden anniversary and sets us on the path for another 50 years leading the industry in mobile power."
Titon SL and Go 90 will be available late September; Titon Base and Titon Micro will be available from October.
For more information, visit www.antonbauer.com