Last chance to nominate for the GTC Awards

Today is the last day for making your GTC Awards 2010 nominations Nominating an award online is simple using the awards nomination forms so get your nomination in now before it's too late.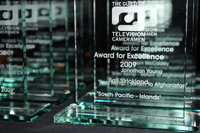 You can view all the Awards for Excellence nominations submitted so far at the 'And the nominations are ...' page.
Don't forget you can also nominate online for all categories of Award including the coveted TCA and Seals of Approval. If you are unsure of the other categories, you can see
details of the qualifying criteria for all the Awards at: www.gtc.org.uk/members-directory/gtc-awards.aspx

The more nominations we have, the better we can trully celebrate excellence in our profession at the fantastic 2010 GTC Awards event at the BFI Southbank on Tuesday 28th September.
Make a note in your diaries now - more news to come about all the events taking place on thisbig day in the GTC calendar soon.