Zerb printed at Holywell Press, Oxford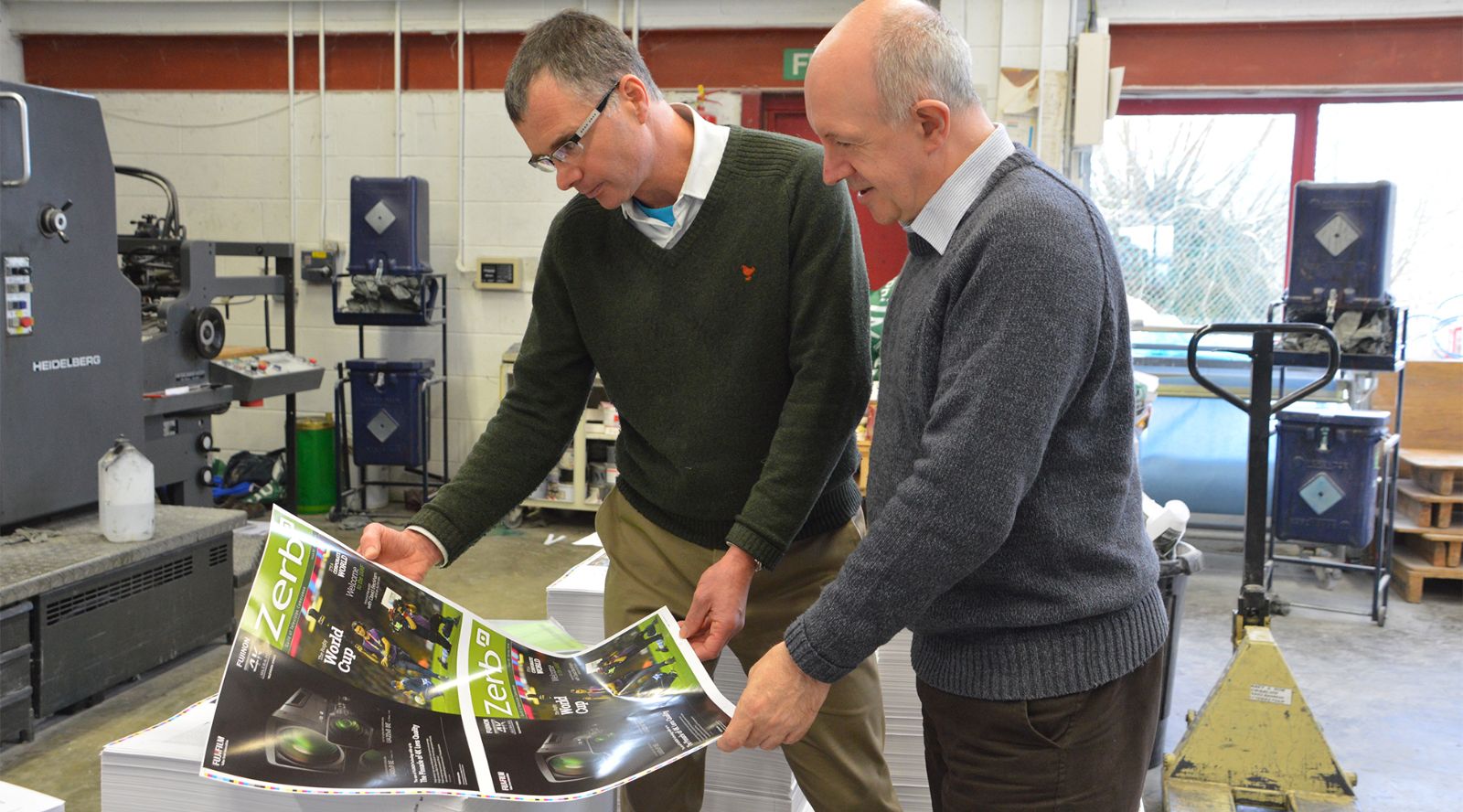 In the next few days the latest issue of Zerb, guest edited by Peter Newman and featuring the 2015 Rugby World Cup, ALEXA Mini, new Panasonic VariCam, memories of Dick Hibberd and Bill Vinten, and insights into the growth area of corporate camerawork, will be landing on the doormats of GTC members across the UK and then a little later around the world.
New printer for Zerb
Last week Zerb Managing Editor, Alison Chapman, visited Holywell Press in Oxford, where Zerb was printing for the first time. The unfortunate sudden demise in September of our previous printer, Information Press of Eynsham, Oxfordshire, had led to a rather frantic search for a new printer for our publications with the October copy of GTC In Focus at the time due to print in just a couple of weeks.
Luckily for us, Holywell was able to fit us in and has now successfully printed two issues of GTC In Focus and its first Zerb. The move has been made easier by the fact that many of the Information Press team who knew our publications well have now moved there.
Tending Zerb as it went through the press were expert printers Gary McDonald and John Fallows, who has been with the company an incredible 45 years.
Family firm with a long history
Holywell Press is a family firm with an impressive 126-year history, co-founded in 1890 by Harry Burrows, great-grandfather of the current MD Ben Burrows (seen left in the top image with Jon Buckingham, who is the GTC's client account manager at Holywell).
At first the print business was located in the centre of Oxford in a historic old building and took its name from the nearby Holywell Rooms. In the early years, Holywell's main customer was Oxford University and it also worked for Morris Motors, producing advertising material for some of the early models.
In 1944, Harry Burrows' son Walter, better known as the Daily Sketch newspaper's "Obstinate Artist" cartoonist, took over, running the business until 1965, when his own son Peter became the third generation of Burrows to head Holywell Press. Peter undertook a major modernisation programme investing in new technology, relocating the business to the current purpose-built factory at Osney Mead in 1989. Peter's son Ben took over as MD in May 2000, while Peter stayed on in the company as Chairman.