Location Lighting Workshop in Germany with Alan Bermingham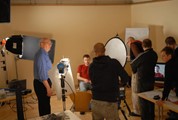 Fancy an educational trip to the world's biggest beer festival?
The newly formed German Television Camera Guild (reported on this site at German TV Cameramen's Guild launches) is running a 3-day location lighting workshop, tutored by UK TV lighting guru Alan Bermingham, and timed to coincide with the famous Munich Oktoberfest that takes place from 19 September to 4 October 2009 (www.oktoberfest.de). The GTC has been working with our German colleagues since the formation of their Guild in April and as part of this fruitful association they are now offering GTC members a 20% discount on their lighting workshop.
At 800€ full price, the course is not cheap (highlighting once again what excellent value GTC workshops typically represent), but with Alan teaching the course it is assured to be of top quality. So, if you like the idea of a trip to Germany, and maybe even combining it with the opportunity to contribute to the downing of 6 million litres of beer, details of the course and how to book a place at the discounted price are below.
Alan Bermingham's Location Lighting Workshop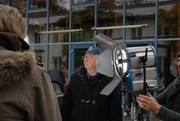 22–24 September 2009 in Gauting/Munich
Tuition fee: 800€ (incl. 19% VAT)
20% discount for GTC-members

Bookings should be made via www.iffma.de and mention 'GTC member' to receive a 20% discount.

Descripton of the workshop
Based on Alan Bermingham's book Location Lighting for Television, this
three-day course provides a comprehensive presentation of the principles and practice of location lighting. Each morning will be devoted to lectures and discussions, with practical work in the afternoon. The participants will work in small groups to solve a series of practical exercises.

Content of the workshop
The natural light of the day, our perception of this light as well as the process of seeing are the starting point of the course. We will train the conscious seeing and the evaluation of the spread of light in a room, a building or a street. The aim of the course is thus, to understand and develop the logical incidence of light in a scenic illumination as close as possible to the reality of natural light. It is important to understand the usage of natural light in the photography of film, and to utilize this knowledge for the management of light in a scene. The possibilities of light management will be trained on the basis of self-created and self-realized scenic illuminations that will be recorded on video. Besides that practical training, basic knowledge to kinds of light, color, and footage as well as the possibilities of the usage of spotlights and other illumination material are taught in a practice-oriented way. (Comprehensive course notes will be provided.)

Tutor Alan Bermingham
Alan Bermingham spent 23 years working for the BBC completing his lighting training in 1970. He was at the BBC's Engineering Training Centre for many years, specialising in Technical Operations training, and lighting in particular.
He left BBC as a senior lecturer in 1982 to move to TV-am as a lighting director, leaving in 1984 to join the ITV station Television South West at Plymouth where he became Head of Lighting, only leaving in 1992 when TSW lost its franchise.
Since 1992 Alan has operated as International TV Training & Consultancy,
providing expertise in training and consultancy in lighting. He has worked in over
30 countries as well as providing services to the BBC and most of the Independent Television companies (ITV) in the UK.