New Marshall CV-RCP-100 Control Unit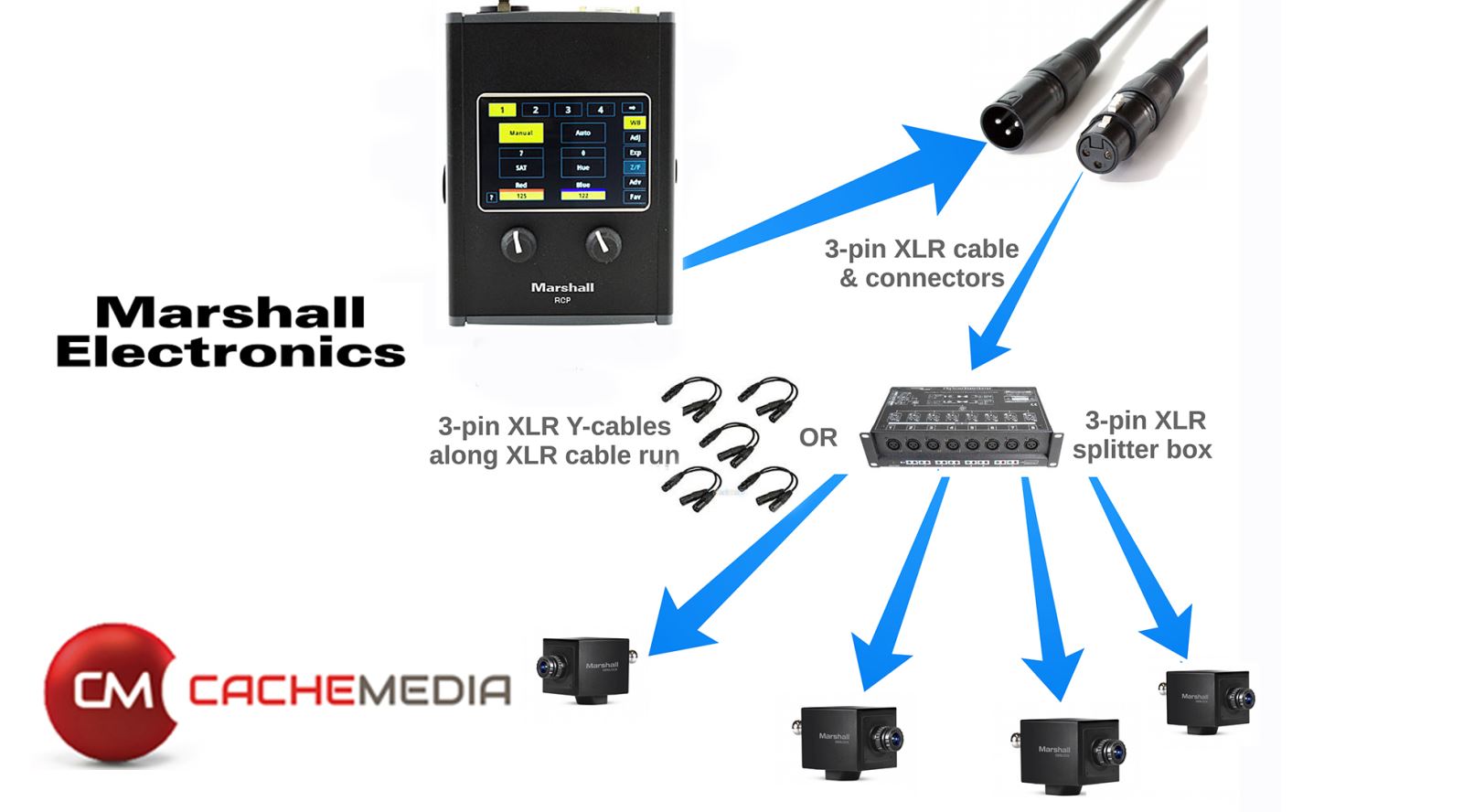 With the new Marshall CV-RCP-100 you can remotely control, adjust and match leading broadcast cameras, one at a time or up to seven at once, without leaving the production room or broadcast truck.
Marshall Electronics has teamed up with a five-time Sports Emmy award-winner to develop a standalone remote RCP solution to adjust, paint and match broadcast cameras. The new CV-RCP-100 Touchscreen Control unit allows for the remote operation of up to seven broadcast cameras from up to 300m away via RS485 (Visca), intuitive touchscreen control, and user-friendly fine-tune adjustment dials for quick changes on the fly.
The touchscreen interface includes self-help dialogues, favourites settings, save features and intelligent menu and sub-menu layouts. Fine-tune finger dials enable precision adjustments for white balance, red/blue gain, gamma, black level, brightness, exposure, iris, shutter, resolution, frame-rate, and many more – simultaneously or one at a time.
The CV-RCP-100 comes pre-programmed with control protocols for leading broadcast cameras, including Marshall POV, remote zoom, full-PTZ, as well as popular non-Marshall branded cameras on the market. Recently updates to the firmware have added more functionality including digital zoom for all cameras, pedestal control and extended gamma range for the Marshall CV-502 cameras.
Available from Cache Media
Available in the UK and Ireland from Newbury-based broadcast specialists Cache Media, the system will revolutionise remote camera control for sports and live events, according to Cache Media's Stuart Cameron. He adds: "Having total control over many cameras in a fast moving sports situation, perhaps with up to 5 cameras inside a racing car for example, will make life so much easier for editors and programme directors and yet the unit is only small. It can be handheld or incorporated into a console array according to requirements. We believe this is a major step forward in camera control."
The CV-RCP-100 directly adjusts camera settings remotely via RS485 connect without having to manipulate an on-screen display menu. It measures just 107mm x 145mm x 43mm excluding projections and boasts low power consumption. It requires only 12V power at less than 12 watts using AC or portable batteries.
For any number of cameras from one to seven, the unit can connect via 3 pin XLR Y-cables along a run or via a 3 pin XLR splitter box interface. It allows remote adjustment to brightness (AE offset), white balance, pedestal (black levels), exposure, paint (red/blue), gamma, gain, iris, shutter, saturation, resolution / frame-rate (output), Pan-Tilt-Zoom-Focus, and more. Camera Model select opens up all controls available for that particular camera.
For more information please contact Cache Media Ltd.
Free UK Phone: 0800 033 6666
Tel International: +44(0) 8709 220 512
Email: sales@cache-media.com
www.cache-media.com