Met Police Film Unit guidance on reclassification of starter pistol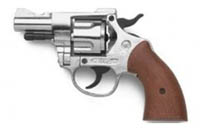 The Metropolitan Police Film Unit has issued guidance on the recent Home Office decision to reclassify the
Olympic .380 BBM revolver, until now known as a 'blank firer' and commonly used in film and TV as well as theatres, as a starter pistol, and for dog training purposes.
Formerly available without a licence from registered outlets such as hobby and model stores, it has now been decided that this gun can too easily be converted to a lethal weapon and it has consequently been reclassified under the Firearms Act 1982. It will be illegal to possess one of these firearms after 4 June 2010 but if you have one in your possession you can hand it in during an amnesty period which is already underway until 4 June.
So, if you've ever purchased one of these weapons as a prop or for a stunt, now is the time to hand it in before you are committing a criminal act.
GTC members can see full details of the reclassification here.