New products from Bradley Engineering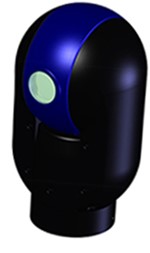 GTC sponsors Bradley Engineering have announced a new mini remote camera, the Eybe.
The Eybe is a brand new integrated mini camera for commentary positions, POVs and discreet remote camera applications. In addition to its streamlined and practical external look the Eybe boasts a number of improvements over its predecessors:
larger sensor chip: the size of the sensor has been increased by over 20% to 0.4"
increased pixel count: the number of pixels has been increased by nearly 100% to 4M pixels
improved low light performance
full RCP control including black levels and paint
smoother movement and wider pan, tilt, and zoom dynamic range.
The results are crisper, cleaner, sharper pictures with smoother pan, tilt and zoom movement. At the top speed it moves at a respectable 120 degrees/sec and at the lowest speed achieves smoothly controllable moves within 1 degree. So, even at tight lens angles you can achieve smooth, fully proportional moves in pan, tilt and zoom.
Matching the Eybe with Bradley's new Multi Function Controller Mk2 and Remote Camera Panel Mk3 gives full CCU control including black levels, paint controls, scene files and pre-set positions.
Bradley have been producing remote cameras and robotic heads for the broadcast industry worldwide since 1998.
---
Bradley have also been working with Stuart Bush of Versatile Remotes to develop a new remote jib head. An early adopter of jibs, Stuart has owned and operated jibs for over 20 years and was a BBC cameraman for many years before that.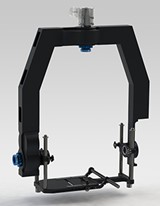 What you need from a remote head is:
• ease of assembly
• smoothness of operation
• light enough to not exceed the jib's payload
• strong enough to carry the biggest cameras
• the ability to adapt to any situation.
Stuart has spent years adapting various remote jib heads and reached the point where he wanted to develop a truly flexible, well engineered product that would tick all the above boxes. Working with David Bradley, another former BBC employee, enabled that solution.
The new remote jib head resulting from this collaboration allows the operator to:
change its width, length, add a second side, specify different gear ratios, or even add Dutch movement;
mount a full-size broadcast camera – if necessary to look straight down;
mount a smaller block-style camera or position a large camera in a tight space;
carry a heavier load, such as ALEXA with a large prime lens or 3D rig.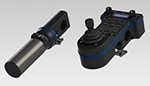 The brains of the system is the pan + tilt controller. This, as well as having dedicated function buttons, also has a menu-driven side, allowing the operator to change every aspect of both the operation and the response of the head.
For more information call on the Eybe or the jib head call:
Bradley Engineering; +44 (0)1590 622440 or see www.bradeng.com
or for more information about the jib head call:
Remote Solutions TV: +44 (0)7836 702236 or see versatileremotes.com/about-it.ph