P2 or not P2: in Bristol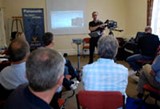 The first in the summer series of GTC regional P2 workshops, organised in conjunction with Panasonic, took place at the Bristol Conference Centre on 22 June. It proved to be a very interesting day for GTC members from the west of the country (plus one who flew in from Newcastle for the occasion!).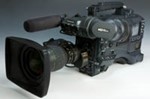 Cameras available for those attending to play with included the very latest top-end solid state Varicam, the AJ-HPX3700, lower cost AG-HPX301, and latest compact HD HPX-171 camcorder. Also on display were a high-grade BT-LH1760 monitor and the HPG20 AVC-Intra portable memory card recorder.
Representing Panasonic were UK Marketing Manager Marc Irwin, Business Development Manager Jill Keane and technical expert Martin Hanson.
Marc kicked off proceedings with an overview of where the company is with the P2 format at the moment, starting with the good news that it is addressing the costs of ownership by announcing cheaper P2 cards at up to one-third less. The range of cards now includes 16, 32 and 64 GB. He also gave a brief overview of the cameras on display and where they fit into the marketplace. Marc also confirmed that there is no development of tape-based cameras going forward planned.
Very soon a lively debate took off regarding the logistics of working with P2 and problems around convincing smaller clients to use an unfamiliar format. In general the members all seemed happy with the picture quality offered by the cameras on display, the issue being much more to do with the reality of using the format in the field. This proved to be a fulfilling way for the members attending to voice their experiences, and the Panasonic team were genuinely interested in the 'real life' feedback. This unique opportunity to exchange ideas and viewpoints goes to the very heart of why the GTC was set up back in the 70s – one of its core remits has always been to provide a channel for those who actually use cameras to talk to the people who make and market them.
Feedback
The P2 workshop was a great opportunity to talk to the people from Panasonic face to face. In what turned in to a very robust but friendly exchange of views, we discussed why it is that cameramen are not investing at the moment. I came away feeling that I had gained an ally within the Panasonic organisation.
Most enjoyable and very worthwhile.